This weekend (June 3-4) the 2023 FIA World Rallycross Championship gets underway at Montalegre in Portugal with five time champion Johan Kristoffersson (VW Polo RX1e) seeking a sixth title. The 2023 championship will consist of 10 races taking place on three continents (Europe, Africa and Asia). After Saturday's racing during World RX of Portugal defending champion Johan Kristoffersson is holding the overnight lead.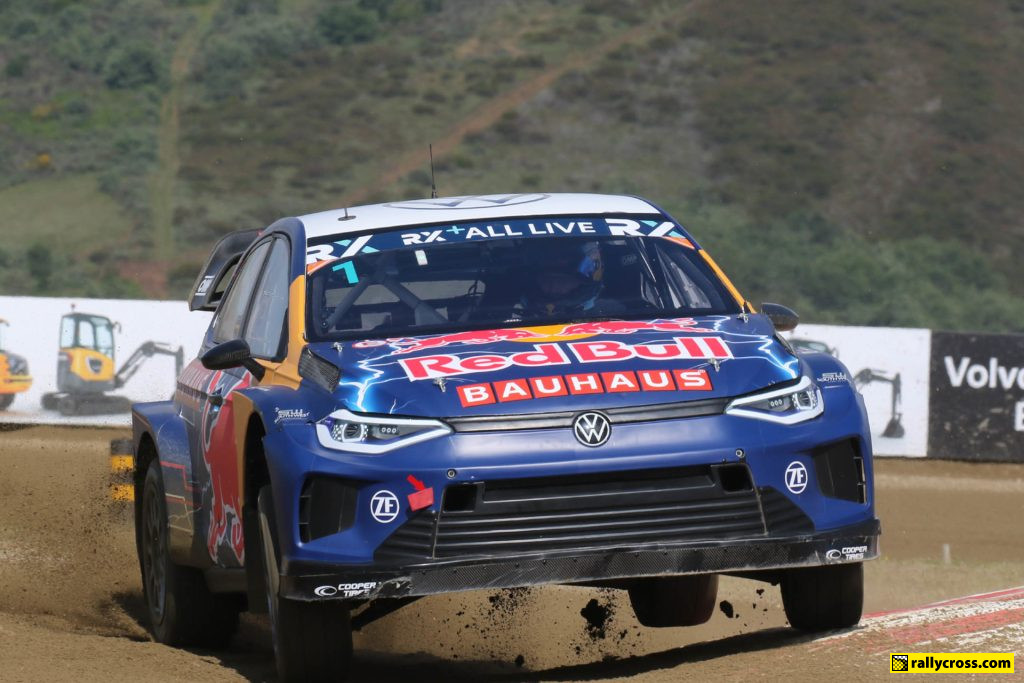 All regular drivers from the 2022 World championship are returning for the new season. However, they are now joined by Guerlain Chicherit's Special ONE Racing with drivers Guerlain Chicherit (Lancia Delta Evo-e RX) himself and nine time FIA World Rally Champion Sébastien Loeb (Lancia Delta Evo-e RX). The team runs a pair of all-electric Lancia Delta Evo-e RX's, a car that was debuted during the last race of the 2022 season at the Nurburgring in Germany. For Loeb it is also his return to the FIA World Rallycross Championship after racing it from 2016 to 2018 resulting in two race victories and 15 further podium appearances from 36 outings. Also returning to the championship is Germany's Timo Scheider in the ALL-INCL.COM Mûnnich Motorsport electric SEAT Ibiza after a year's absence from the grid.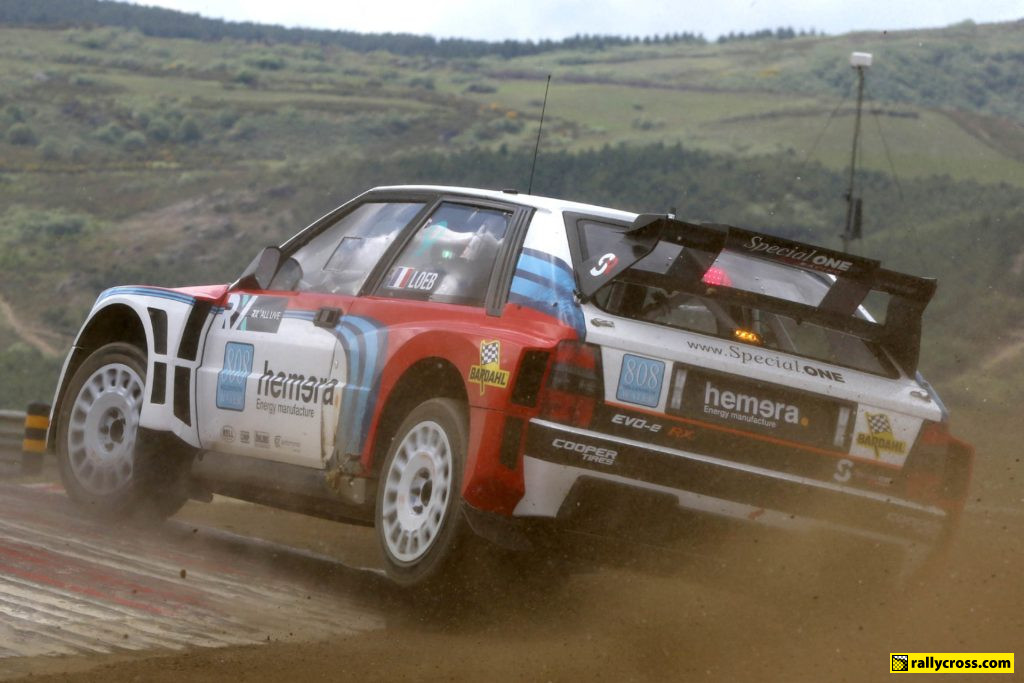 New for this season is a Free Practice session for the RX1e drivers on the day before the start of the Competition. Friday's session at Montalegre resulted in Johan Kristoffersson being fastest ahead of Timmy Hansen (Peugeot 208 RX1e) and Ole Christian Veiby (VW Polo RX1e). On Saturday morning Niclas Grönholm (PWR Hyundai i20 Rx1e) was fastest in the Official Practice beating Ole Christian Veiby. The one-lap Superpole shootout afterwards went to Kristoffersson being .5 seconds quicker than teammate Veiby and 1.2 and 1.3 seconds quicker than Timmy and Kevin Hansen (Peugeot 208 RX1e).
The very first race of the season brought immediately some nice racing action between Niclas Grönholm and Sébastien Loeb, won by the first named. Afterwards the race with Kristoffersson took place and he won it ahead of Veiby and the Hansen brothers with the mentioned drivers also occupying the first four spots in the first heat result. In the second heat Kristoffersson was among the ones that were out on the track first and won his heat race, in what became the fastest time, from Niclas Grönholm who became second fastest. Loeb won afterwards the remaining heat race setting a third fastest time. In the combined result Kristoffersson holds the overnight lead. Second is Ole Christian Veiby with Niclas Gönholm third. Fourth and fifth in the intermediate standings is for Timmy Hansen and Sébastien Loeb.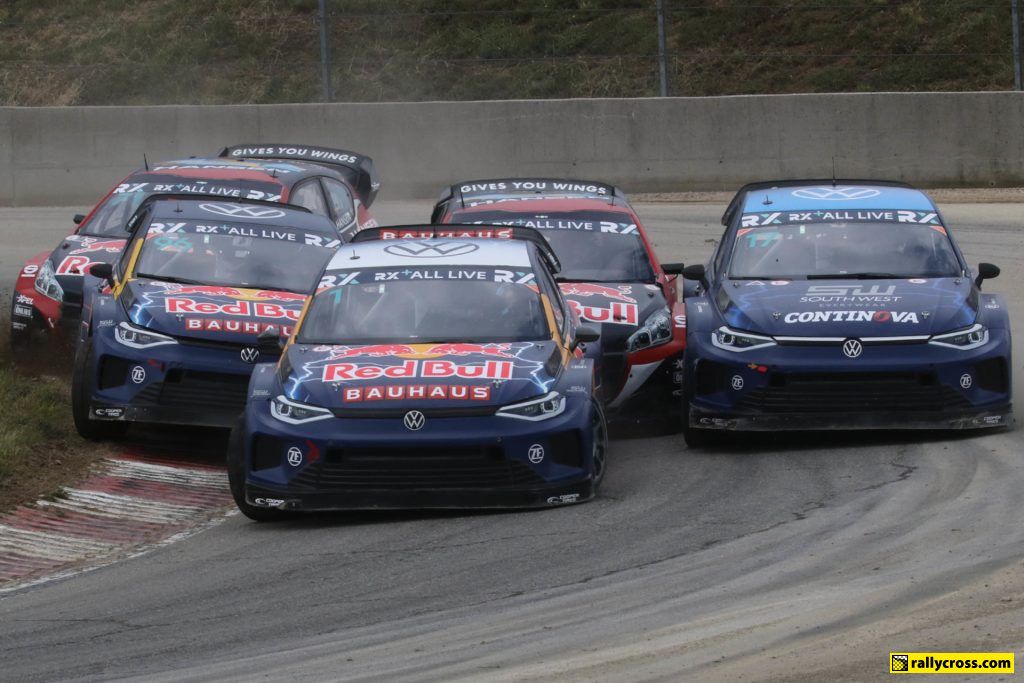 Alongside the opening round of the 2023 FIA World Rallycross Championship also rounds of the 2023 FIA European Rallycross Championship are taking place. In Euro RX1 Jānis Baumanis (Peugeot 208), winner of the opening round in Hungary back in April, is currently third after three heats. Defending champion Anton Marklund (Ford Fiesta Mk7) is leading it after having set fastest times in the first two heats. Belgium's Enzo Ide (Audi S1) is currently second.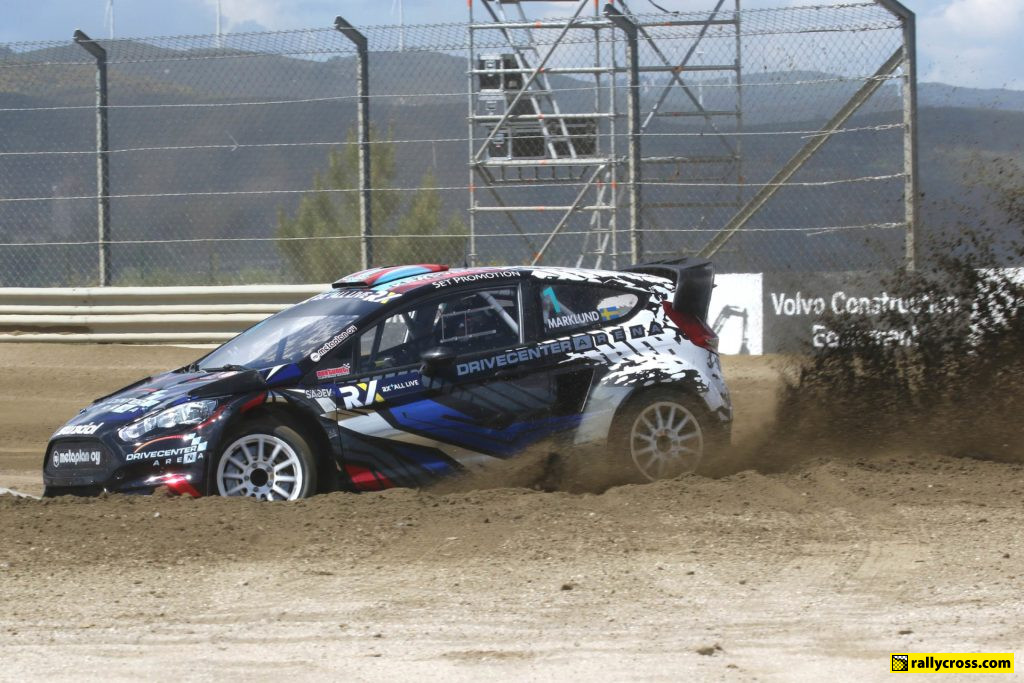 In the Euro RX3 the top four is occupied by four Volland Racing Audi A1's with Damian Litwinowicz (Audi A1), fastest in the first heat, leading it from Nils Volland (Audi A1), fastest in the third heat. Portuguese driver João Ribeiro (Audi A1 goes in third while Espen Isaksætre (Audi A1) is fourth.
The event continues tomorrow Sunday with a warm-up session at 9:15 am local time followed by the third heats of World RX at 10:40 am local time. Semi-finals and finals for World RX are foreseen from 3 pm local time onwards.
Results
RX1e (after two heats): 1. Johan Kristoffersson (S), 100; 2. Ole Christian Veiby (N), 85; 3. Niclas Grönholm (FIN), 84; 4. Timmy Hansen (S), 81; 5. Sébastien Loeb (F), 79; 6. Kevin Hansen (S), 77; etc.
Euro RX1 (after three heats): 1. Anton Marklund (S), 137; 2. Enzo Ide (B), 126; 3. Jānis Baumanis (LV), 121; 4. Patrick O'Donovan (IRL), 115; 5. Tamás Kárai (H), 117; 6. Sivert Svardal (N), 110; etc.
Euro RX3 (after three heats): 1. Damian Litwinowicz (PL), 137; 2. Nils Volland (D), 125; 3. João Ribeiro (P), 123; 4. Espen Isaksætre (N), 118; 5. André Sousa (P), 114; 6. Martin Kjær (N), 112; etc.