The first weekend of July is traditionally in the world of Rallycross the Höljes weekend in Sweden. This weekend (July 1-2), the third round of the 2023 FIA World Rallycross Championship is taking place together with rounds for the 2023 FIA RX2e Championship and the 2023 FIA European Rallycross Championship for RX1 and RX3 cars.
Only 9 drivers (instead of 10) were racing today (Saturday) in 'Word RX of Sweden' in the RX1e category as Gustav Bergström (VW Polo RX1e) was 'excused from participation for exceptional circumstances'. These 'exceptional circumstances' should be read as participating in the Porsche Carrera Cup Scandinavia at Skellefteå on Friday and Saturday. Following a Steward's Decision he will be allowed to take part on Sunday in the warm-up session and the rest of the event.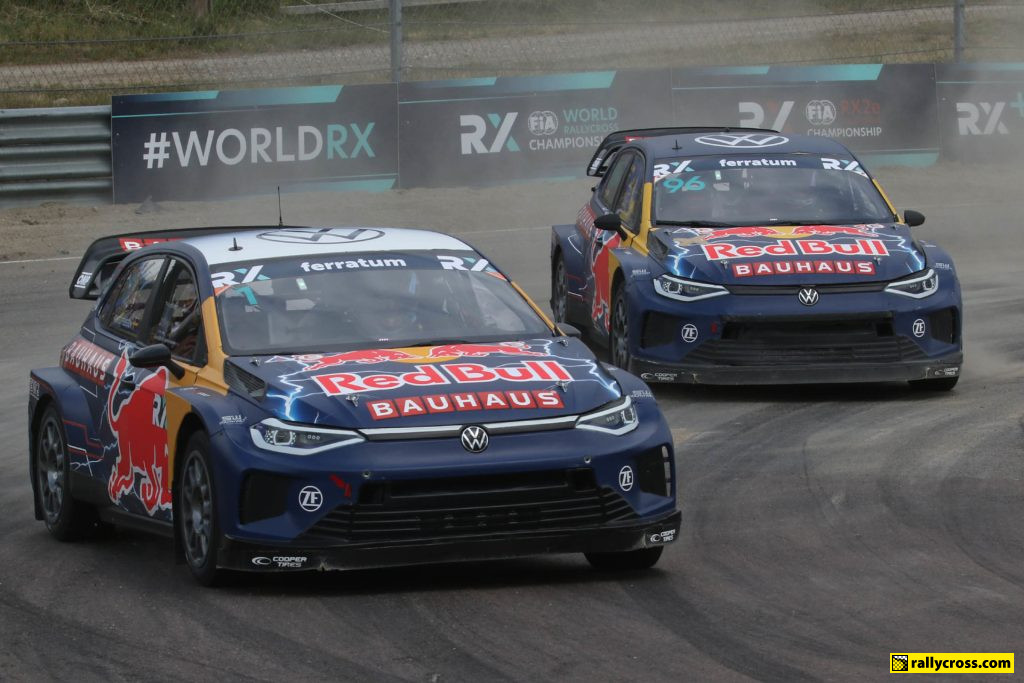 Johan Kristoffersson (VW Polo RX1e) was fastest in Friday's and Saturday's practice sessions. In the Superpole on Saturday morning, run in reverse championship standings, Ole Christian Veiby (VW Polo RX1e) was holding fastest time until the last car appeared. Then Kristoffersson managed it to be 73 thousands of a second quicker and made another Superpole his. No suprises in the heats on Saturday afternoon with Kristoffersson winning all his heat races and setting fastest times. He is holding the overnight lead ahead of his teammate Ole Christian Veiby (VW Polo RX1e), who was second and third fastest, and Kevin Hansen (Peugeot 208), who set a second fastest time in heat 2.
In the FIA RX2e Championship from this season on the grid for the first heat is determined by a 'Qualifying Practice' that was run for the first time two weeks ago at Hell in Norway during the opening round. The cars are out on the track for five laps with the fastest lap time of the four flying laps counting. At Höljes on Saturday morning Nils Andersson (RX2e) was the fastest man ahead of the defending champion Viktor Vranckx (RX2e) and the winner of the opening round, Isak Sjökvist (RX2e). The qualifying heats delivered some nice racing with Viktor Vranckx setting fastest times in heat 1 and heat 2 and a second fastest time in heat 3. Ole Henry Steinsholt (RX2e), fastest in the third heat, is currently second ahead of Andersson and Sjökvist.
In the FIA European Rallycross Championship for RX1 cars the entry list was holding a number of non-championship and local drivers for the Höljes event. Among them Andreas Bakkerud (Audi S1) and Robin Larsson (Audi S1). The first named was out during race 1 of heat 1 and won it in a time that became a fourth fastest time. Larsson afterwards won his heat race as well but following an error he was fifth fastest. Anton Marklund (Ford Fiesta Mk7) drove to the fastest time ahead of Jānis Baumanis (Peugeot 208) and Enzo Ide (Audi S1). During the second heat the five fastest drivers from heat 1 were lined up for the first race where this time Larsson dominated and scored a clear win in what became the fastest time. Marklund came in second in that heat race ahead of Ide and Bakkerud who spun his Audi. The day was finished with a third heat where Bakkerud was out in the penultimate race, won it and set the fastest time. Then in the last race Larsson and Marklund made a one-two finish and improved the time of Bakkerud. Larsson is holding the overnight lead following his fastest times in heat 2 and 3 ahead of Marklund and Bakkerud. The top five is completed by Baumanis and Ide.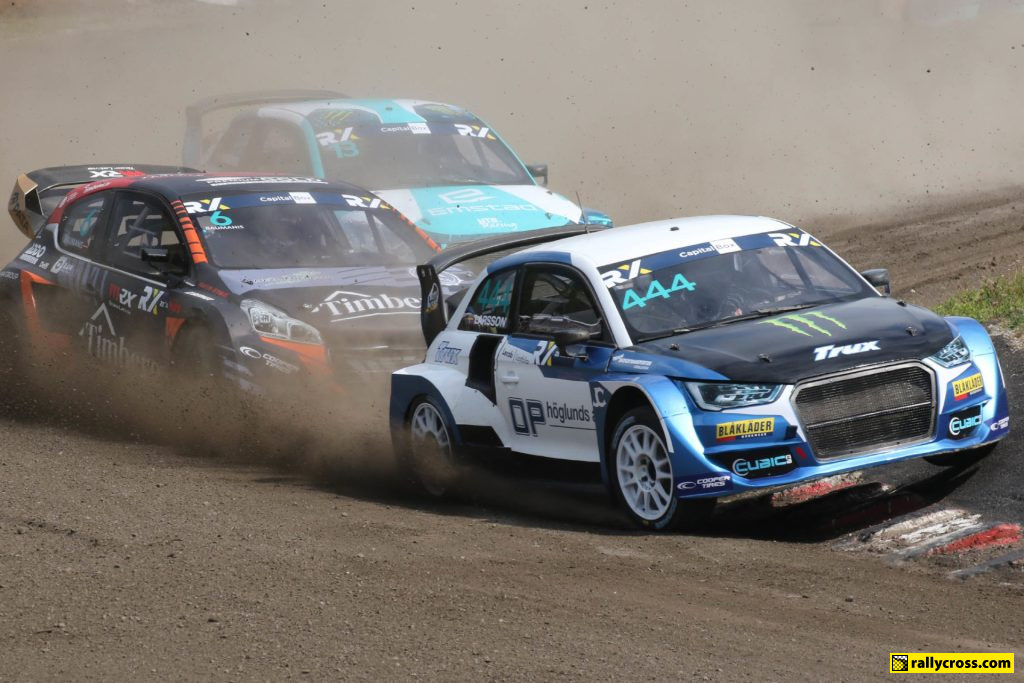 In the RX3 championship the event at Höljes is the penultimate event in this years series. Espen Isaksætre (Audi A1), currently second in the championship, signed for fastest times in the qualifying heats today respectively ahead of Jens Hvaal (Škoda Fabia Mk3) in heat 1, Dominik Senegacnik (Škoda Fabia Mk3) in heat 2 and João Ribeiro (Audi A1) in heat 3. In the ranking on Saturday evening obviously Isaksætre is topping the list ahead of Ribeiro, Senegacnik and championship leader Damian Litwinowicz (Audi A1).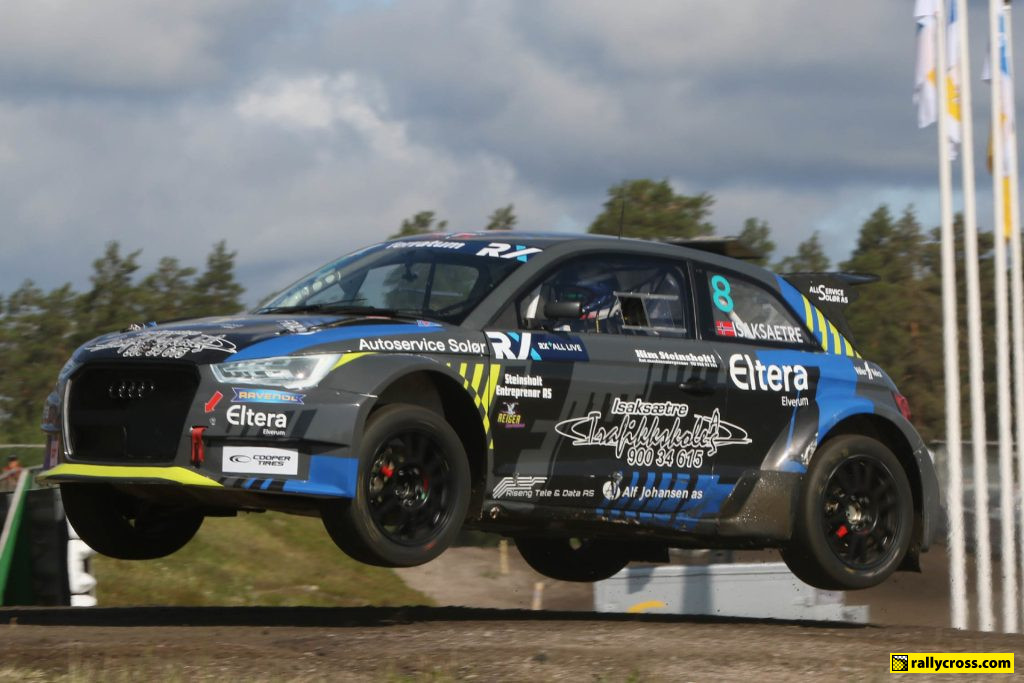 The action on the track continuous tomorrow Sunday from 10am onwards with a warm-up session for all categories.
Results
RX1e (after two heats): 1. Johan Kristoffersson (S), 100; 2. Ole Christian Veiby (N), 87; 3. Kevin Hansen (S), 81; 4. Timmy Hansen (S), 81; 5. Niclas Grönholm (FIN), 80; 6. Klara Andersson (S), 77; etc.
RX2e (after three heats): 1. Viktor Vranckx (B), 145; 2. Ole Henry Steinsholt (N), 134; 3. Nils Andersson (S), 126; 4. Isak Sjökvist (S), 125; 5. Marko Muru (EST), 118; 6. Filip Thorén (S), 112; etc.
Euro RX1 (after three heats): 1. Robin Larsson (S), 139; 2. Anton Marklund (S), 134; 3. Andreas Bakkerud (N), 123; 4. Jānis Baumanis (LV), 116; 5. Enzo Ide (B), 116; 6. Linus Östlund (S), 115; etc.
Euro RX3 (after three heats): 1. Espen Isaksætre (N), 150; 2. João Ribeiro (P), 126; 3. Dominik Senegacnik (A), 121; 4. Damian Litwinowicz (PL), 119; 5. Jens Hvaal (N), 118; 6. Nils Volland (D), 118; etc.