Not being part of the 2021 pre-season driver announcements and not being on any of the entry lists for the opening race of the season back in July in Spain, Norway's Andreas Bakkerud – a permanent driver in the World championship until last year and this since the beginning of it in 2014 – returned to racing at Höljes this weekend.
Bakkerud is competing in the FIA European Rallycross Championship for RX1 cars after concluding a one-off deal with Lithuania's ES Motorsport at the eleventh hour. He is piloting the team's second Škoda Fabia alongside former World RX racer Jānis Baumanis, taking the place of Hungarian driver "Luigi", who withdrew from the event.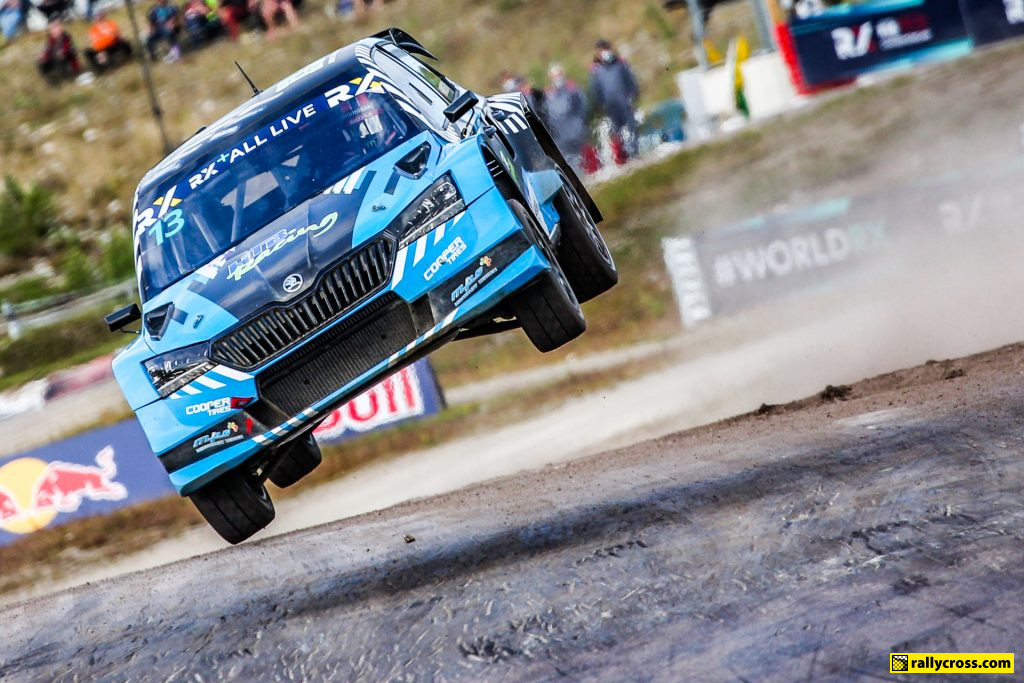 "Having to watch one more race weekend from the sofa would just have been unthinkable, specially the Höljes event", Bakkerud said days before the event went underway earlier today.
"I'm a racer and I want to be out there racing."
"I'm over the moon to be back on the grid, and this is such a special circuit for me. I went to school in Torsby when I was growing up, so I'm very familiar with the area around Höljes and it really feels like a home track."
"I've been competing at Höljes since 2009, with some amazing races and a lot of great memories, including my first Euro RX Supercar win in 2013 and a World Championship event win three years later, so to sit at home this weekend was simply not an option."
"There has been a huge amount of hard work behind-the-scenes with my partners and the team to get to this point, and now it's time to enjoy it and go racing."
"My expectations are always high. Whenever my name is on the entry list, I'm there to win. However, I also need to be realistic given that I haven't done many laps in the Fabia. Results come over time, so I can't expect to go out and be the fastest straightaway, but this is a great opportunity to get to know the team and the car."
"Höljes is a one-off for now, but I've definitely got one eye on the future and I've always regarded ES Motorsport as a team with real potential in Rallycross. Who knows, maybe I can be the driver who breaks the ice and steps onto the podium with them."
With the first day at Höljes completed on Saturday afternoon Bakkerud sits currently in fourth after Q2. He drove the Fabia to a sixth fastest time in Q1 and a third fastest time (including a race win) in Q2. However on Sunday Q3 and Q4 need to be completed before the spots for the semi-finals are awarded.
In Q3 – which is set to go underway on Sunday from around 10:30 am local time – he will be out in the final RX1 race facing competition from Anton Marklund (VW Polo Mk5) and Fabien Pailler (Peugeot 208), who finished one and two in Q2, as well as from Thomas Bryntesson (VW Polo Mk5) and Jean-Baptiste Dubourg (Peugeot 208) who are completing the five car line-up.