Some traditions never change even in the world of Rallycross. One of them is the event at Höljes in Sweden during the first weekend of July. However, compared to the past seasons, this year's event is exceptionally not part of the FIA World Rallycross Championship. Racing this weekend counts for the 2022 FIA European Rallycross Champioship for RX1 and RX3 cars with round 2 of the series as well as for the FIA RX2e Championship that sees its opening round.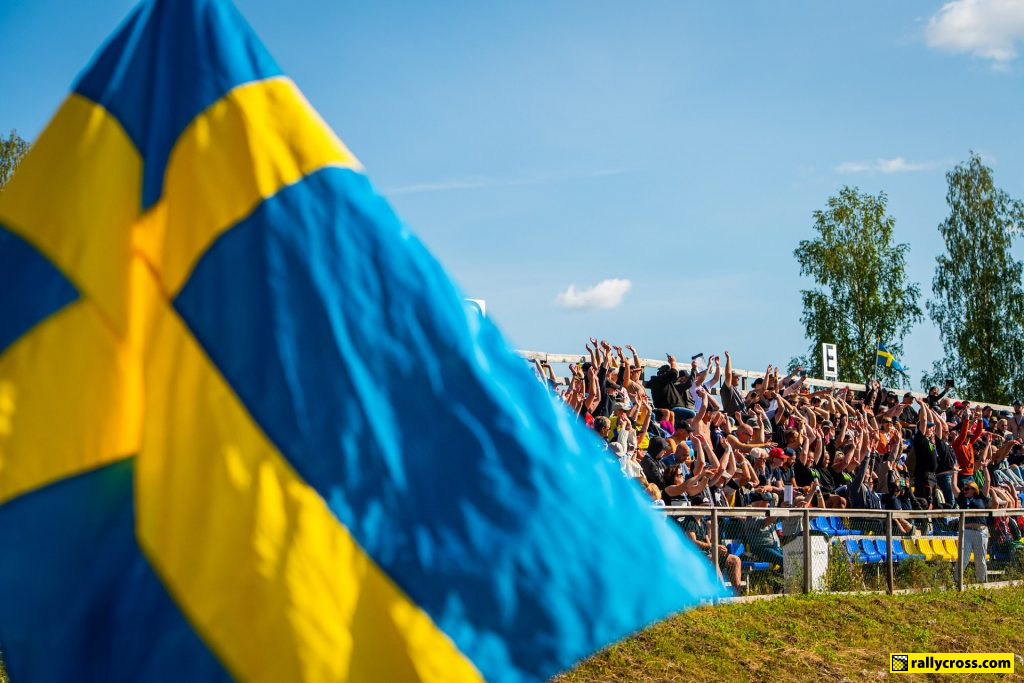 The 2022 World RX season is set to run as an all-electric series but the move to all-electric is not going as smooth as initially planned. A FIA statement on the matter reads as "[…] the long lead time for the delivery of certain components to assemble the cars, the start of the Championship has been postponed to the last weekend of July […]". Therefore no longer Höljes but the Nürburgring in Germany will play host for the opening round of the 2022 FIA World Rallycross Championship on July 30-31.
Also after the last FIA World Motor Sport Council meeting a revised 2022 calendar was published holding six events in total with three of the events being double header events. Therefore the FIA World Rallycross Championship for RX1e cars will be run over nine rounds. After the opening race in Germany the series continues in Norway, Latvia, Portugal, Belgium and Spain. Latvia, Portugal and Belgium are the double header events.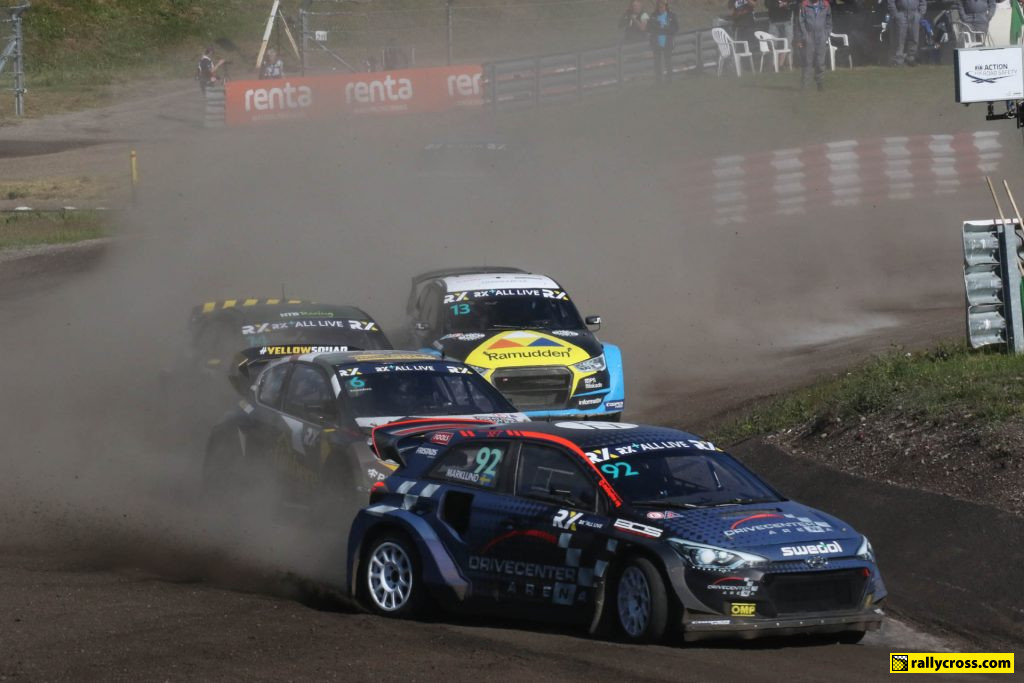 Back to Höljes and this weekend's action then where 25 Euro RX1 cars entered for the event. Several of them however for a "one off"/non-championship appearance with for example former FIA World Rallycross Champion Johan Kristoffersson (VW Polo Mk5), Rally drivers Oliver Solberg (Hyundai i20) and Ole Christian Veiby (Audi S1) and reigning European champion and fan favorite Andreas Bakkerud (Audi S1). Euro RX1 championship drivers on the entry list to mention beforehand were among others Anton Marklund (Hyundai i20), who joined Set Promotion for this season and won the opening round at Nyirád in Hungary back in May, Enzo Ide (Audi S1), second in Hungary and Jānis Baumanis (Peugeot 208) who secured himself a seat for the Euro RX1 season by joining Kevin and Timmy Hansen's #Yellowsquad.
Saturday's Euro RX1 action came down to a practice session (mainly in the wet) and two qualifying heats. Fastest times in practice were set by Anton Marklund ahead of Frenchman Jean-Baptiste Dubourg (Peugeot 208). Both EKS Audis of Andreas Bakkerud and Enzo Ide were respectively third and fourth. Kristoffersson signed for the fifth fastest time.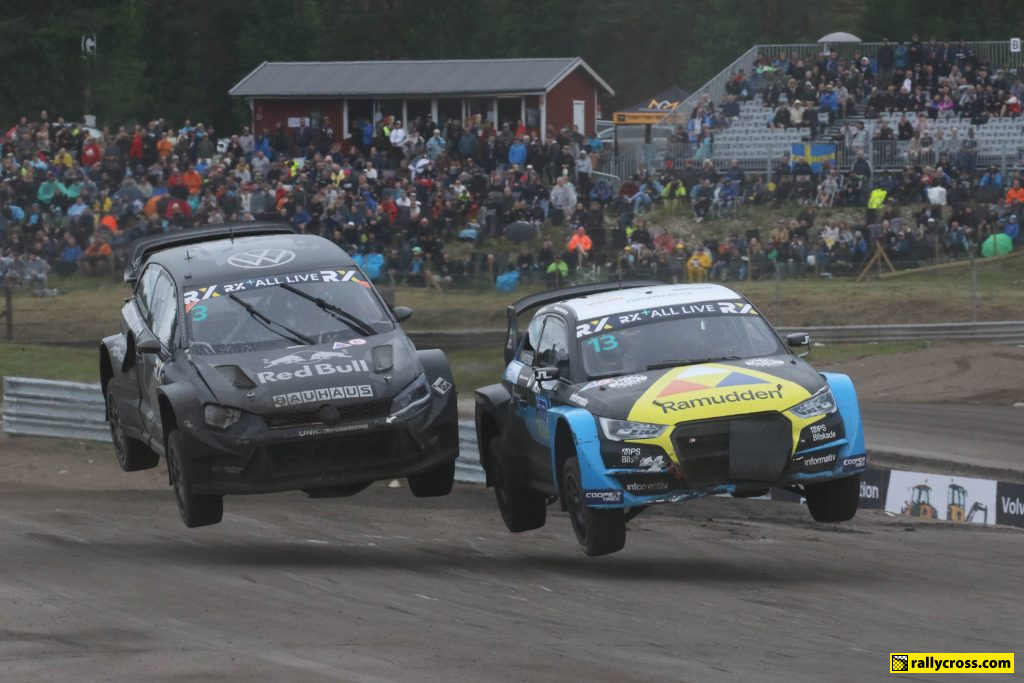 Afterwards in the first heat – with a starting order based on a random draw – Kristoffersson, Bakkerud and Veiby were lined up beside each other in the first race. Bakkerud won it ahead of Kristoffersson and Veiby. In the second race Oliver Solberg – who is racing the Hedströms Motorsport Hyundai i20 – beat Bakkerud's time with nine seconds; eventually leading to the fastest time in the first heat. Second and third fastest went to Marklund and Dubourg who finished one and two in the last race of the first heat.
In the second heat Kristoffersson was fastest after the fourth race – with all the second place finishers from the first heat. He won it from Enzo Ide. In the final race of the day, with all the race winners of the first heat, we saw Bakkerud, Marklund, Baumanis, Sondre Evjen (Audi S1) and Solberg. The race win eventually went to Marklund, however he came one tenth of a second short to set the fastest time. Solberg and Bakkerud came in second and third behind Marklund.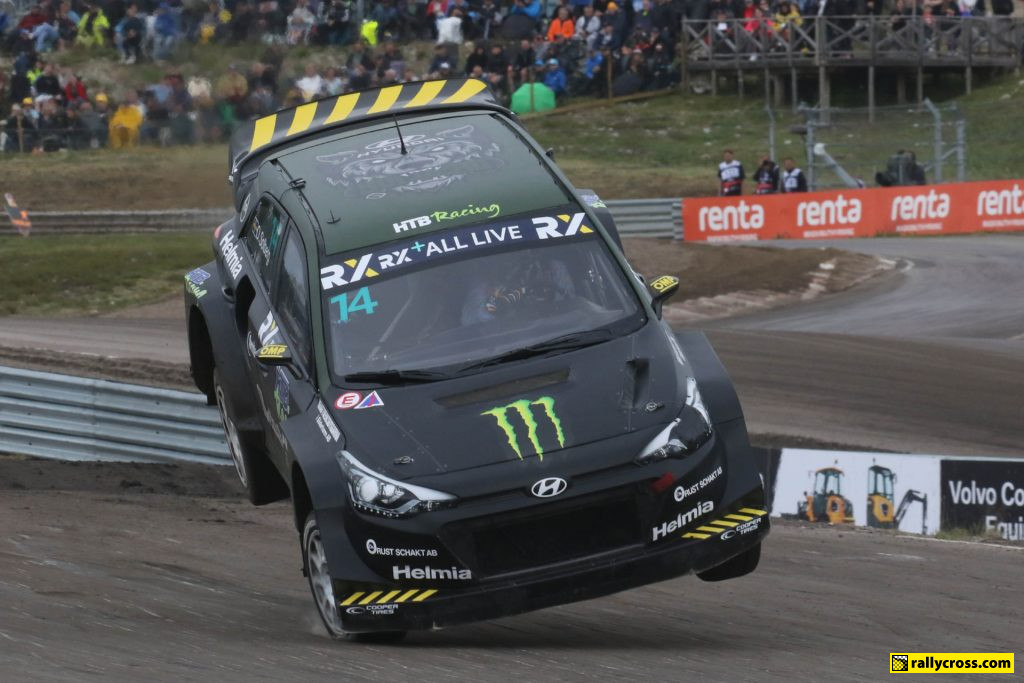 In the combined result after the second heat Oliver Solberg is leading it from Anton Marklund and Johan Kristoffersson. The top five is completed by Jean-Baptiste Dubourg and Sondre Evjen while Andreas Bakkerud currently holds sixth place.
In the FIA European Rallycross Championship for RX3 cars two Norwegians are leading it after two heats. Martin Kjær (Ford Fiesta Mk7) is on top after a fastest time in the first heat. Marius Solberg Hansen (Škoda Fabia) goes in second after being quickest in the second heat. Championship driver Kobe Pauwels (Audi A1), last year's runner-up, is currently third after he set a second fastest time in the second heat. Further championship drivers Jan Černý (Škoda Citigo) and Damian Litwinowicz (Audi A1) are completing the top five after the first day.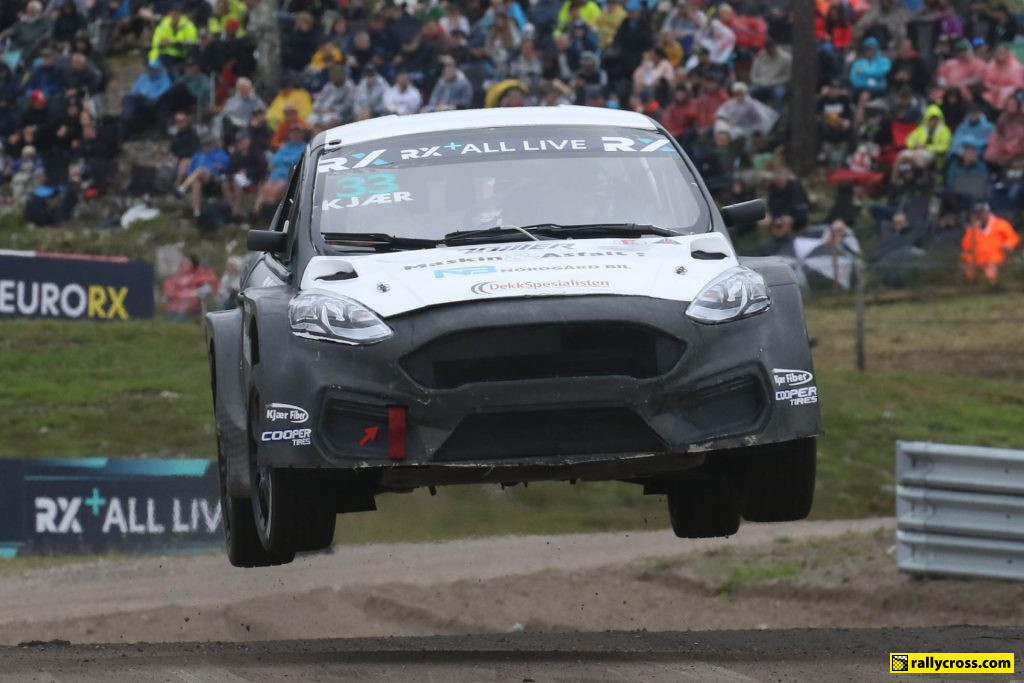 Despite the all-electric World RX has been delayed until the end of July there was electrical car action at Höljes with the FIA RX2e Championship, the official support series to the FIA World Rallycross Championship. 10 cars were on the list of starters with among them female Extreme E racer Catie Munnings (RX2e) from the UK and multiple Dakar competitor Laia Sanz (RX2e) from Spain. Leading after two heats however is Belgium's 16-year-old Viktor Vranckx who set fastest and second fastest times in the heats. He is leading it from Sweden's Nils Andersson (RX2e) and Isak Sjökvist (RX2e). Munnings and Sanz are going in respectively seventh and eighth with more heats to come.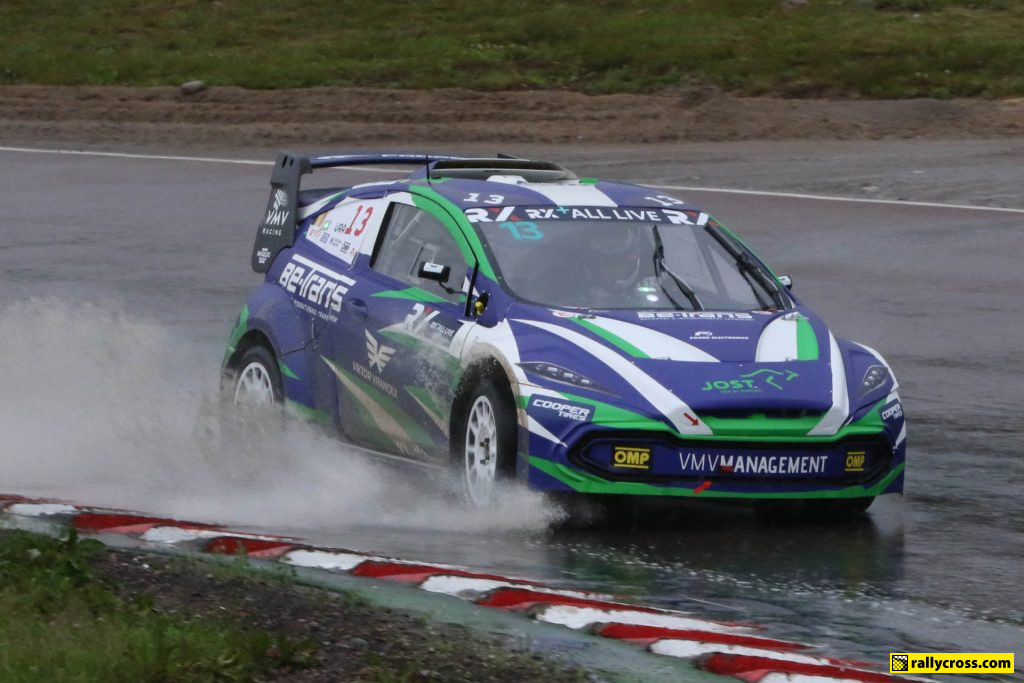 The racing action continues tomorrow morning at 9am local time with a warm-up session followed by the third heat for all categories from 10:30am onwards.
Results
Euro RX1 (after two heats): 1. Oliver Solberg (N), 92; 2. Anton Marklund (S), 90; 3. Johan Kristoffersson (S), 87; 4. Jean-Baptiste Dubourg (F), 79; 5. Sondre Evjen (N), 79; etc.
Euro RX3 (after two heats): 1. Martin Kjær (N), 89; 2. Marius Solberg Hansen (N), 88; 3. Kobe Pauwels (B), 84; 4. Jan Černý (CZ), 84; 5. Damian Litwinowicz (PL), 82; etc.
RX2e (after two heats): 1. Viktor Vranckx (B), 95; 2. Nils Andersson (S), 89; 3. Isak Sjökvist (S), 84; 4. Patrick O'Donovan (IRL), 82; 5. Raül Ferré (AND), 82; etc.