The all-electric 2022 FIA World Rallycross Championship went finally underway this morning (August 13) at Hell (Lånkebanen), near Trondheim, in Norway. The "Ramudden World RX of Norway" will go into Rallycross history as the first event for the new RX1e cars. After a first day of RX1e racing FIA World Rallycross Champion Johan Kristoffersson (VW Polo RX1e) and last years runner-up Timmy Hansen (Peugeot 208 RX1e) are leading it.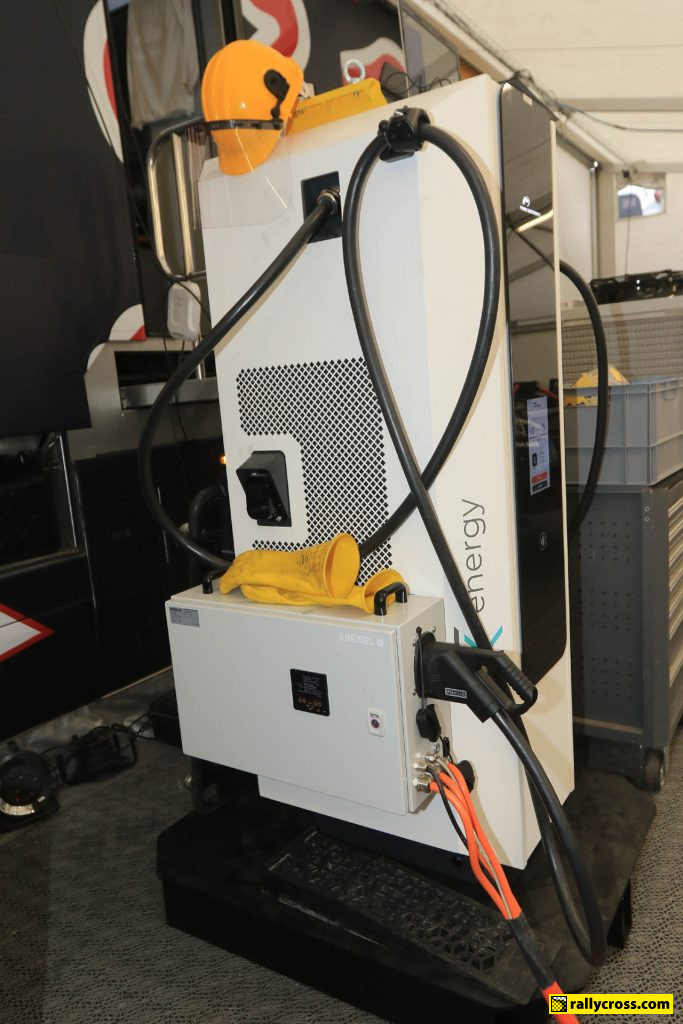 After having faced several delays and postponements for the well known reasons eight new RX1e cars – three teams with two cars each and two individual entries – were ready to race for the 2022 opening round of the championship. Four time FIA World Rallycross Champion Johan Kristoffersson is teaming up with Ole Christian Veiby (VW Polo RX1e) under the wings of Kristoffersson Motorsport. Timmy Hansen and Kevin Hansen (Peugeot RX1e) are present as Hansen World RX Team while Niclas Grönholm (PWR Hyundai i20 RX1e) together with Klara Andersson (PWR Hyundai i20 RX1e) are forming the new Construction Equipment Dealer Team. Added to the team entries for Norway were individual entries of Gustav Bergström (VW Polo RX1e) and René Münnich (SEAT Ibiza RX1e) completing the list of drivers allowed to start.
Ole Christian Veiby was the very first driver with a RX1e car out on the track on Saturday morning during a practice session. After the free practice sessions were completed Timmy Hansen signed for the fastest time with Johan Kristoffersson second and Kevin Hansen third.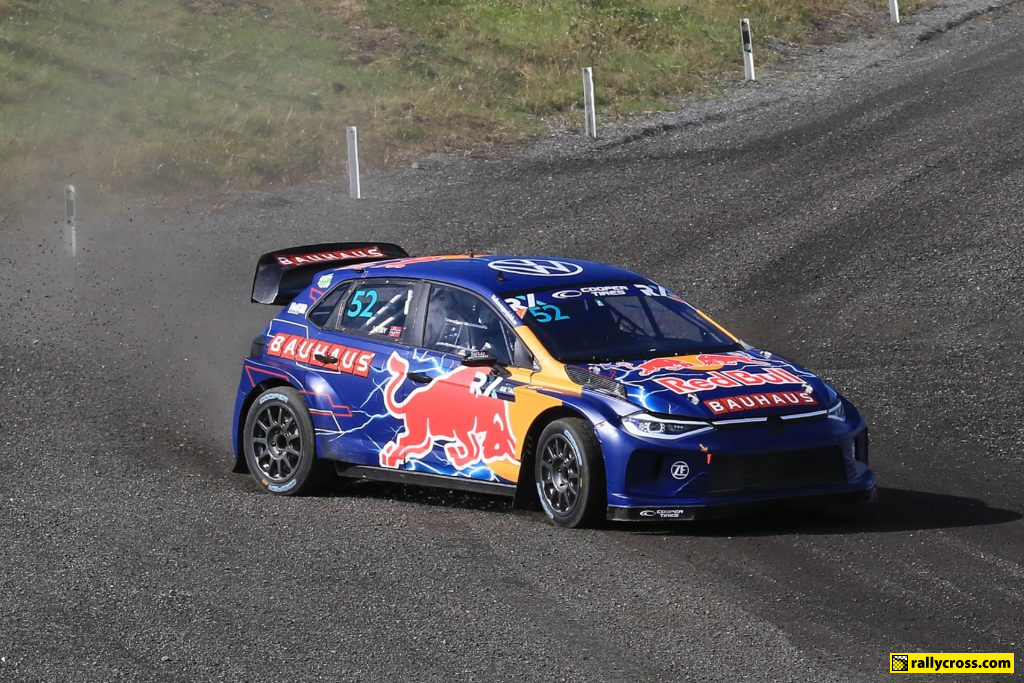 To decide the starting positions for the first heat of RX1e, from this season on a so called "SuperPole" has been introduced instead of a random draw. Every car will be out on the track on its own in an attempt to set the fastest lap. Winner of the very first SuperPole was Johan Kristoffersson who got pole for the first race in heat 1. Timmy Hansen was second and got pole for the second race in heat 1. The top four in the SuperPole was completed by Kevin Hansen and Niclas Grönholm.
Afterwards in the heats on Saturday afternoon it was more or less "business as usual". In the first heat, Kristoffersson was out in the first race and won it from Kevin Hansen after having lead it from start to finish. Timmy Hansen was victorious in the second race beating both PWR RX1e cars of Niclas Grönholm and Klara Andersson. In the second heat Kevin Hansen won the first race from Niclas Grönholm while Timmy Hansen and Kristoffersson got the opportunity to battle it out in the second race. Hansen won it from Kristoffersson in the start and lead it from turn one. With Kristoffersson passing through the joker lap section in the second lap and Hansen responding the lap after eventually Timmy Hansen was able to beat Kristoffersson after five laps on the track. In the combined result Kristoffersson and Timmy Hansen are leading it both with a fastest and second fastest time. Kevin Hansen goes in third with twice a third fastest time.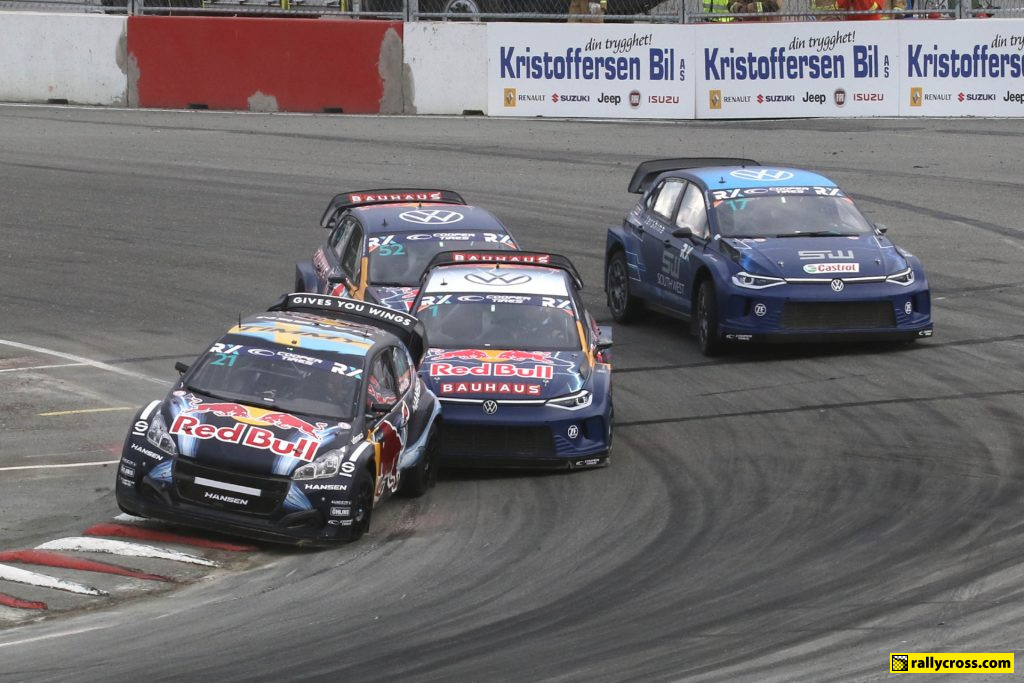 Apart from the new RX1e category during "Ramudden World RX of Norway" racing also takes place in the RX2e category – the official support category to the FIA World Rallycross Championship – as well as the Euro RX1 and Euro RX3 categories. The RX2e list of drivers contains an "interesting name" with Aksel Lund Svindal (RX2e). The Norwegian double Olympic Champion and twice overall World Cup winner in Alpine Skiing debuts Rallycross at Lånkebanen. After two heats Svindal holds ninth spot. Leading the standings overnight is Viktor Vranckx (RX2e) who dominated today. Vranckx already won the opening round at Höljes in the beginning of July and set fastest times today in the first and second heat. Second behind Vranckx is Isak Sjökvist (RX2e) who twice set a second fastest time.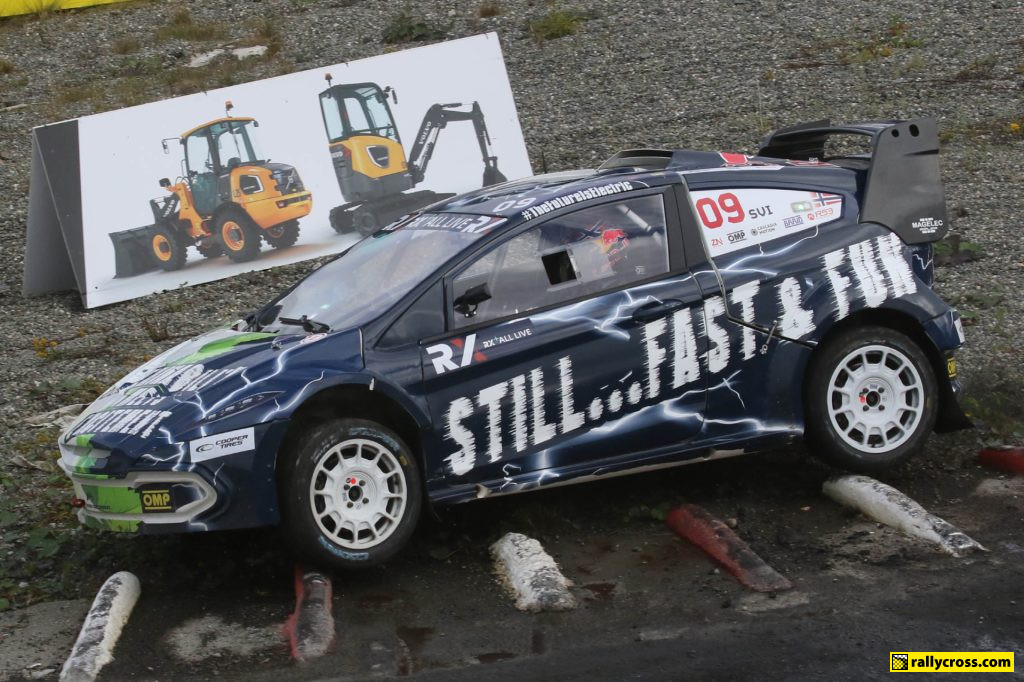 In Euro RX1, the event at Hell is already the third round of the championship. Anton Marklund (Hyundai i20), who won both of the previous rounds, is leading it after having set the fastest times in heat 1 and 2. Second place is currently for Fraser McConnel (Hyundai i20) who set a second fastest time behind Marklund in heat 2. Andreas Bakkerud (Audi S1) and Enzo Ide (Audi S1) are in third with both a third and fourth fastest time. Jānis Baumanis (Peugeot 208), second behind Marklund in heat 1, completes the top five.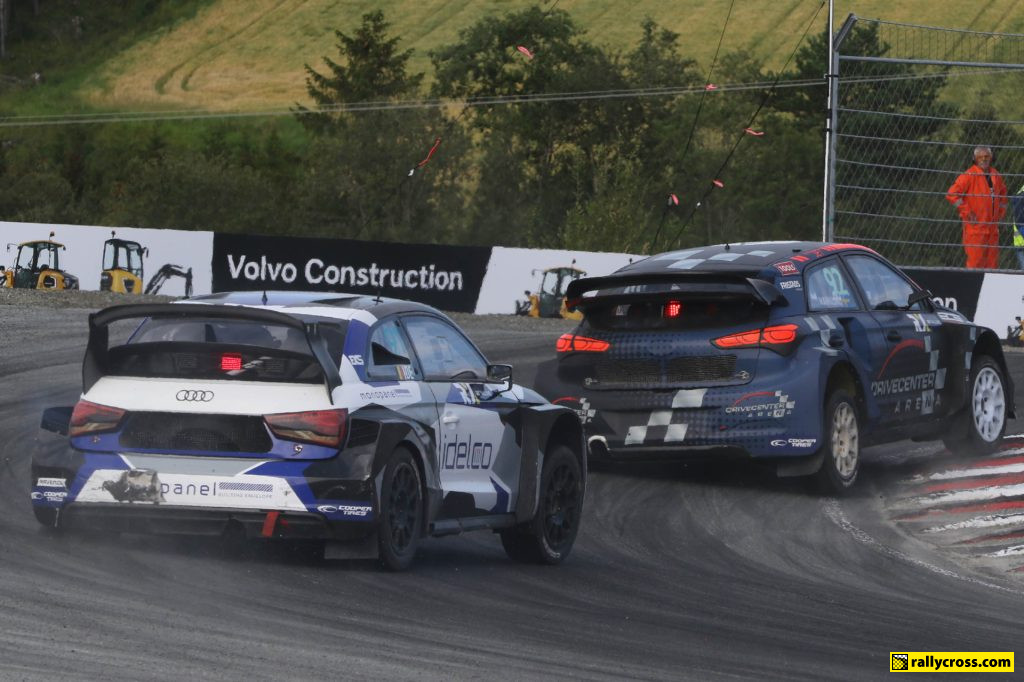 Finally Kobe Pauwels (Audi A1) is leading it in Euro RX3 from Jan Černý (Škoda Citigo) and Marius Solberg Hansen (Škoda Fabia Mk3).
Racing continues tomorrow Sunday with action on the track starting at 9am local time with a practice session followed by the third heats in the different categories from 10:10am onwards.
Results
RX1e (after two heats): 1. Timmy Hansen (S), 95; 2. Johan Kristoffersson (S), 95; 3. Kevin Hansen (S), 84; 4. Niclas Grönholm (FIN), 79; 5. Ole Christian Veiby (N), 79; etc.
RX2e (after two heats): 1. Viktor Vranckx (B), 100; 2. Isak Sjökvist (S), 90; 3. Pablo Suárez (E), 82; 4. Nils Andersson (S), 81; 5. Raül Ferré (AND), 79; etc.
Euro RX1 (after two heats): 1. Anton Marklund (S), 100; 2. Fraser McConnell (JAM), 84; 3. Andreas Bakkerud (N), 82; 4. Enzo Ide (B), 82; 5. Jānis Baumanis (LV), 79; etc.
Euro RX3 (after two heats): 1. Kobe Pauwels (B), 95; 2. Jan Černý (CZ), 87; 3. Marius Solberg Hansen (N), 84; 4. Damian Litwinowicz (PL), 83; 5. Nils Volland (D), 80; etc.