GRX-SET World RX Team driver Niclas Grönholm (Hyundai i20) scored his first victory in the 2021 FIA World Rallycross Championship after winning today (September 18) the first leg of 'World RX of Riga' at Biķernieki Sport Complex outside Riga in Latvia. Timmy Hansen (Peugeot 208) and Kevin Hansen (Peugeot 208) joined the Finn on Saturday's podium and therefore the Hansen brothers were on every World RX podium so far this season.
The 2021 World championship resumed this morning at Riga with a double header event meaning one World RX round on Saturday and another one on Sunday. Therefore these events are run over three qualifyings (instead of four) followed by the semi-finals and the final.
Defending champion Johan Kristoffersson (Audi S1) was on top of the intermediate standings after having set a fastest time and twice a second fastest time in respectively Q1, Q2 and Q3. Niclas Grönholm qualified second after being fastest in Q3 ahead of Mattias Ekström (SEAT Ibiza Mk4) who drove to the fastest time in Q2 in an ALL-INCL.COM Münnich Motorsport SEAT Ibiza. The Swede, the 2016 FIA World Rallycross Champion, joined René Münnich's team for both of the World RX events at Riga. The top five in the intermediate classification was completed by the Hansen brothers with Kevin [Hansen] on four and Timmy [Hansen] on five.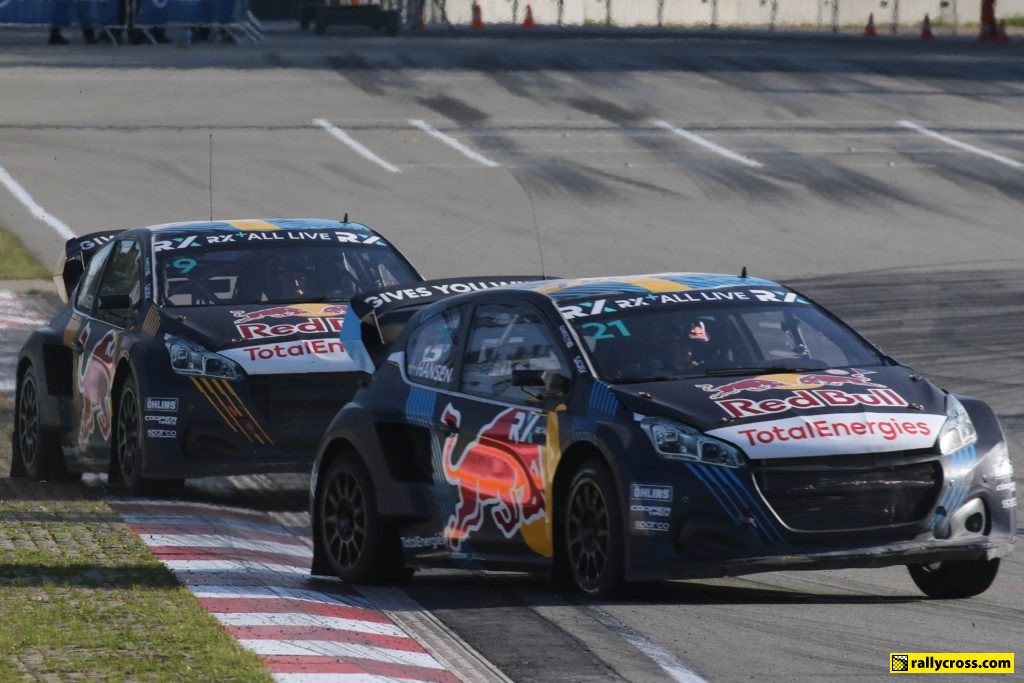 Following the result of qualifying Kristoffersson and Ekström were side by side on the front row for the first semi-final. Timmy Hansen and Krisztián Szabó (Hyundai i20) were on the second row. Once the green light was shown Kristoffersson went into the lead with Timmy Hansen, following a good start, in second ahead of Ekström. Kristoffersson was setting the pace with Timmy Hansen keeping up with his countryman while Ekström was soon lacking the pace due to a puncture and got overtaken by Szabó. After six laps Kristoffersson came in first ahead of Timmy Hansen and Szabó and were through to the final.
In the second semi-final the front row was occupied by Niclas Grönholm and Kevin Hansen with Timo Scheider (SEAT Ibiza Mk4) and Kevin Abbring (Renault Mégane Mk4) on the second row and Juha Rytkönen (Ford Fiesta Mk7 ST) on the last row. Grönholm had the better start where Scheider made it to second ahead of Rytkönen. Kevin Hansen and Abbring then decided for an early joker in the opening lap. With Scheider passing through the joker lap section in lap three and Grönholm the lap after, both kept the first two places in the race. Kevin Hansen eventually passed Rytkönen before the latter went into the joker and secured himself third place and the last qualifying spot for the final. Kevin Abbring finished fourth and was left out for the final.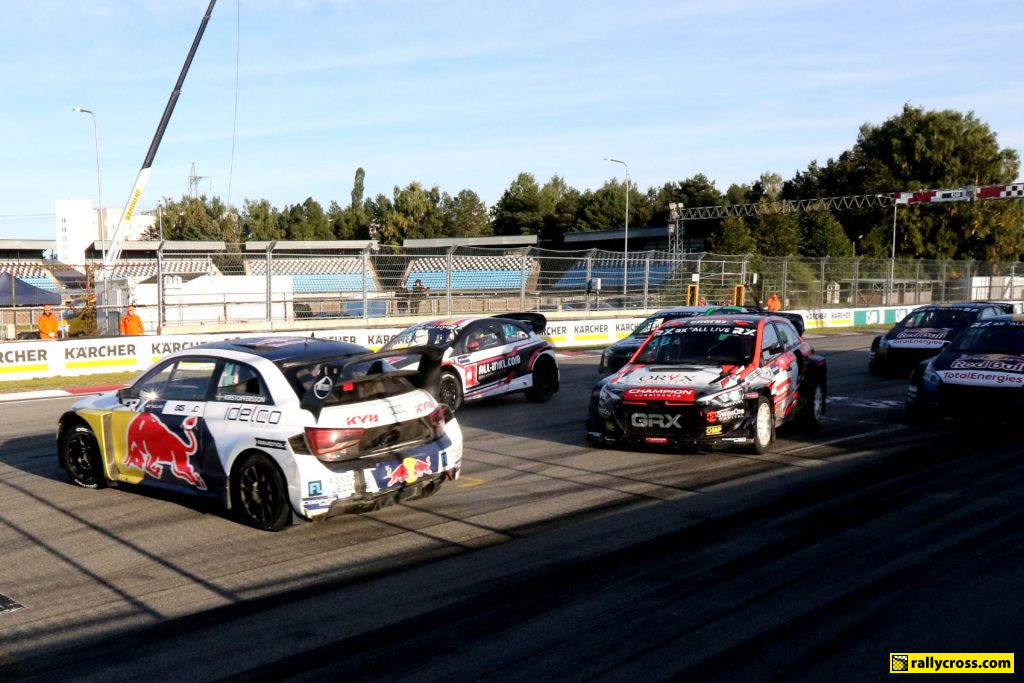 Kristoffersson was on pole for the World RX final with Grönholm the other front row starter. Second place finishers in the semi-finals Timmy Hansen and Scheider were on row two. The grid was completed by Szabó and Kevin Hansen on row three. For Kristoffersson the final was 'over' shortly after the start when he spun his Audi S1 after a contact with Grönholm. The Finn then went into the lead ahead of Scheider, Szabó and the Hansen brothers. Before the end of the first lap Scheider was forced to retire the SEAT from the final with battery/electrical issues. Then both of the GRX-SET Hyundai's were leading it going into the second lap. Kevin Hansen passed through the joker lap section and joined the main track again behind brother Timmy [Hansen] who went already into the joker the lap before. Kevin Hansen was eventually able to beat Szabó for three when the Hungarian came out of the joker. With only Grönholm to complete his joker in lap four the positions were settled and Grönholm won his first World RX event of the 2021 season. Timmy [Hansen] and Kevin Hansen joined the Finn on the podium.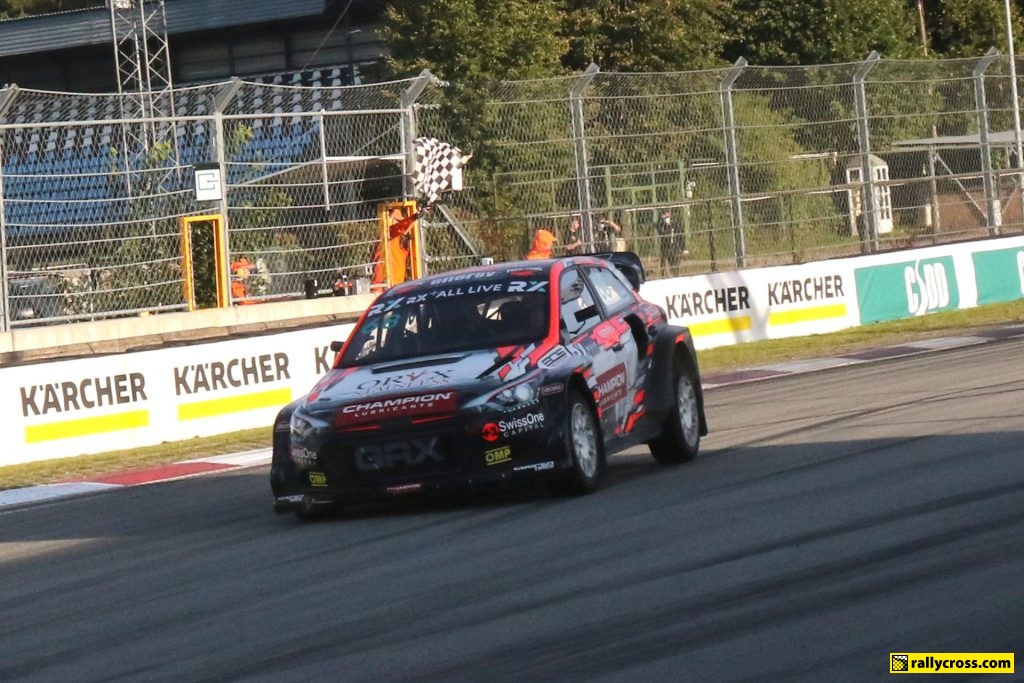 "It feels good to win and I'm happy with it today," Grönholm said. "We had good speed right from the start, and whilst Q2 didn't go our way, we turned it around, although, I've got to be honest, I didn't feel like the final was my best drive.
"The incident at the start was just one of those things that happens sometimes, but I struggled a bit after that. I was surprised to have such a big gap behind after taking the joker, but Jussi [Pinomäki] told me to take it easy.
"It was a tough start to the season for us with bad weekends in Spain and Sweden. Our pace and the podium in France represented a step in the right direction, and our luck finally changed for the better here.
"Tomorrow marks another chance to score more good points."
In the standings after four rounds Timmy Hansen remains in the lead with 107 points. He is 11 points clear on his brother Kevin [Hansen] (96 points) while Johan Kristoffersson is third with 81 points. Today's winner Niclas Grönholm is fourth with 80 points.
For the 2021 FIA European Rallycross Championship for RX1 cars the event in Latvia is just a single header event – round 4 of the championship. Therefore Q1 and Q2 have been completed today. The remaining qualifyings, the semi-finals and the finals are scheduled for tomorrow Sunday.
Frenchman Fabien Pailler (Peugeot 208) is holding the overnight lead after having set the fastest time in Q2 and a sixth fastest time previously in Q1. Andreas Bakkerud (Škoda Fabia Mk3), who was fastest in Q1, is currently second. Another Frenchman, Andréa Dubourg (Peugeot 208), is third after Q2 with a second and fifth fastest time. Peter Hedström (Hyundai i20) and Jānis Baumanis (Škoda Fabia Mk3) are completing the top five. Speaking about Andréa Dubourg, his brother Jean-Baptiste Dubourg is absent in Latvia suffering from a broken arm after his accident in the previous round at Lohéac two weeks ago.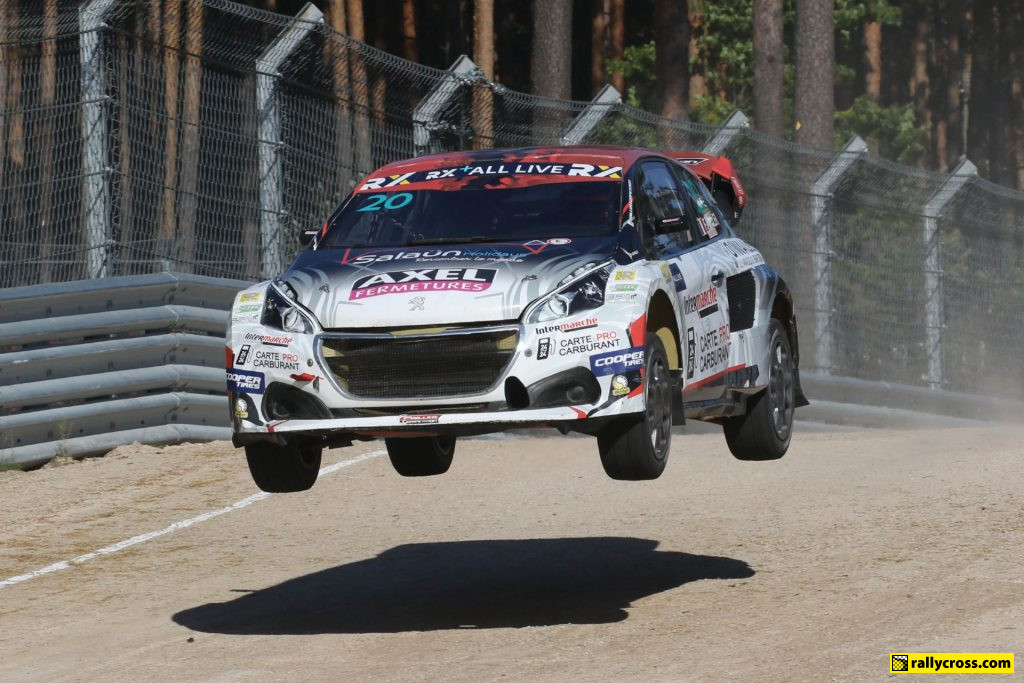 World RX of Riga continues on Sunday with round five of the 2021 FIA World Rallycross Championship and the remaining qualifyings, semi-finals and final of the Euro RX1 category. Action on the track is set to begin at 10 am local time.
Results
World RX – Final: 1. Niclas Grönholm (FIN), Hyundai i20; 2. Timmy Hansen (S), Peugeot 208; 3. Kevin Hansen (S), Peugeot 208; 4. Krisztián Szabó (H), Hyundai i20; 5. Johan Kristoffersson (S), Audi S1 – DNF; 6. Timo Scheider (D), SEAT Ibiza Mk4 – DNF.
Euro RX1 (after Q2): 1. Fabien Pailler (F), 88; 2. Andreas Bakkerud (N), 86; 3. Andréa Dubourg (F), 84; 4. Peter Hedström (S), 84; 5. Jānis Baumanis (LV), 83; etc.
Standings
World RX (4/9): 1. Timmy Hansen (S), 107; 2. Kevin Hansen (S), 96; 3. Johan Kristoffersson (S), 81; 3. Niclas Grönholm (FIN), 80; 5. Krisztián Szabó (H), 75; etc.
World RX Team (4/9): 1. Hansen World RX Team (S), 203; 2. GRX-SET World RX Team (FIN), 155; 3. KYB EKS JC (S), 127.