Johan Kristoffersson (Audi S1) is holding the overnight lead after a first day of action on Saturday (October 9) at the Circuit de Spa-Francorchamps in Belgium during the sixth round of the 2021 FIA World Rallycross Championship. In the FIA European Rallycross Championship for RX1 cars is Andreas Bakkerud (Škoda Fabia Mk3) on schedule for now to become the 2021 European champion tomorrow Sunday.
Four categories are on the program this weekend at 'Benelux World RX of Spa-Francorchamps' in Belgium with one of them – the Euro RX1 championship – to be decided on Sunday evening. The decision for the Euro RX1 title will be most likely played among the top four drivers in the standings before Francorchamps. Frenchman Fabien Pailler (Peugeot 208) is leading from Norway's Andreas Bakkerud by only two championship points: 62 vs 60 points. Andréa Dubourg (Peugeot 208) and Janis Baumanis (Škoda Fabia Mk3) are the two other title contenders with 54 and 48 points.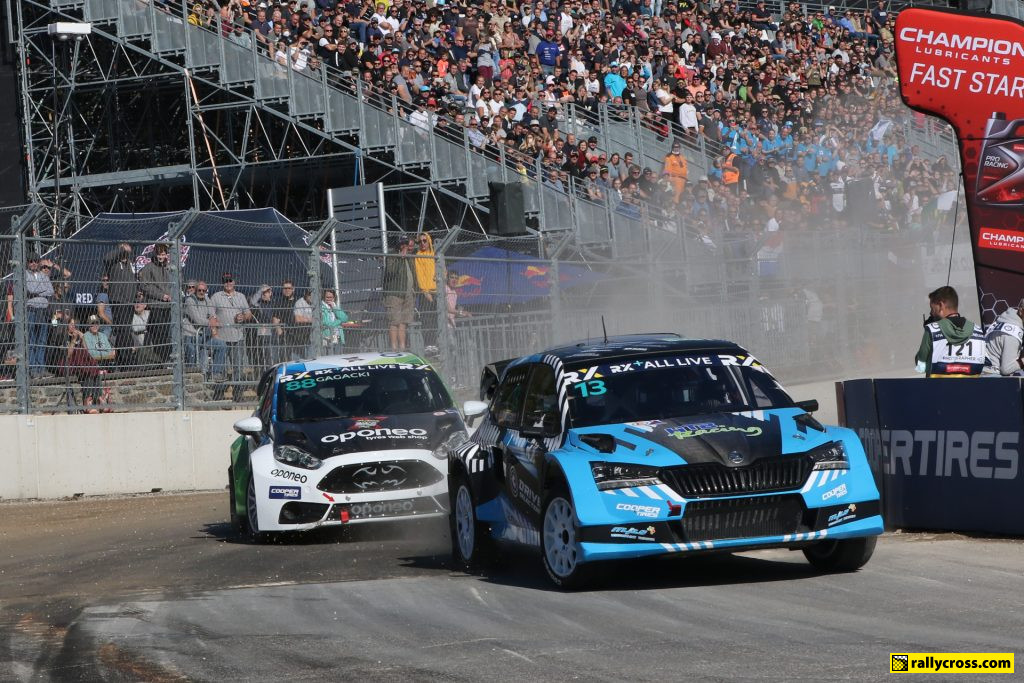 At Saturday noon Q1 for Euro RX1 went underway with points leader Fabien Pailler immediately out on the track in the first Q1 race. He made it to the finish as second behind brother Jonathan [Pailler] (Peugeot 208). His main challenger for the championship, Andreas Bakkerud, was in the last Q1 race and won it from lights to flag setting the fastest Q1 time. Jonathan Pailler was second and Támas Kárai (Audi S1) third fastest. Fabien Pailler eventually got classified as sixth. In Q2 things got worse for most of the championship contenders. In the second Q2 race Fabien Pailler spun the Peugeot 208 already before the first turn while Andréa Dubourg, who was in the same race, recorded a DNF after he hit the wall following a contact. On top of that, Fabien Pailler – who was able to finish his Q2 race – got an extra 20 seconds time penalty from the Stewards of the Meeting for a 'change of racing line and causing a collision with several cars'. Then in the final Q2 race Jānis Baumanis was forced to record a DNF with a rear left broken suspension. Only for Bakkerud things went all fine on this first day as he is leading it in the intermediate standings with the maximum amount of points after having set fastest times twice. Poland's Marcin Gagacki (Ford Fiesta Mk7) goes currently in second with Jonathan Pailler third.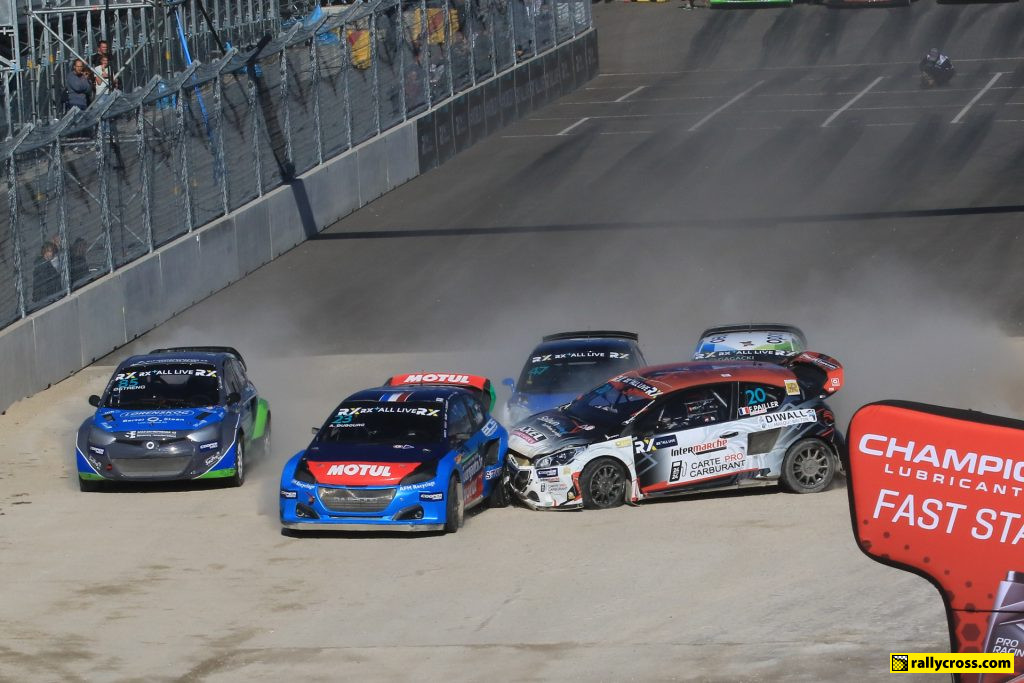 Kevin Abbring (Renault Mégane Mk4) drove to the fastest time in Q1 in World RX. The Dutchman was out in the last Q1 race and beat Johan Kristoffersson's time set in the first Q1 race. Timo Scheider (SEAT Ibiza Mk4), who was in the same race as Abbring, was third fastest. In Q2, ran according to slowest first, Abbring was in his heat race victim of one of the many 'turn one incidents' after his car made contact with two other cars. Kristoffersson set the fastest time after winning the third Q2 race beating the time set by Timmy Hansen (Peugeot 208) the race before. Overall after Q2, Kristoffersson is going into the lead with 95 points ahead of Timmy Hansen with 84 points. Despite the incident in Q2 Kevin Abbring is still third overnight. The several 'turn one incidents' made the FIA Race Director decide to hold an extra Drivers' briefing on Sunday morning.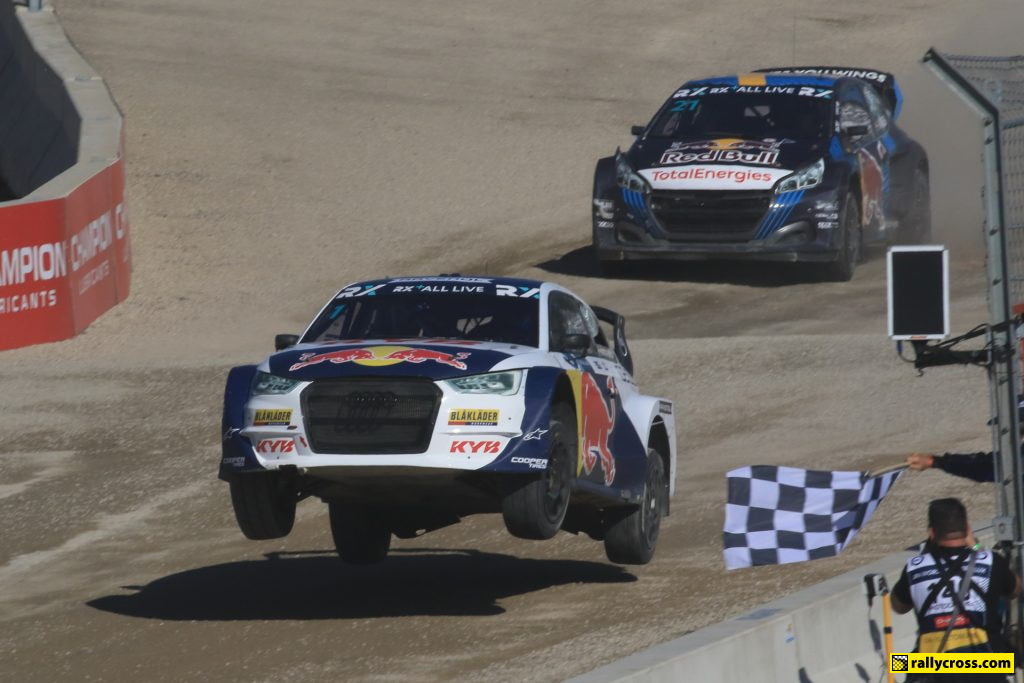 In RX2e, not less than three female drivers joined the entry list for 'Benelux World RX of Spa-Francorchamps' with, in random order, multiple Woman's Trial World Champion and Dakar competitor Laia Sanz (RX2e), Rally and Off-Road and current Extreme E driver Christine Giampaoli Zonca (RX2e) and Klara Andersson (RX2e), younger sister of former European championship Touring Car and Supercar driver Magda Andersson. Apart from that, the RX2e event is also the penultimate round of the championship currently lead by Guillaume De Ridder (RX2e). After Q2, De Ridder is only fifth with a fifth and sixth time set in respectively Q1 and Q2. Jesse Kallio (RX2e) and Isak Sjökvist (RX2e) are tied for the lead with both a fastest and a second fastest time. Klara Andersson, third fastest in Q1, goes in third.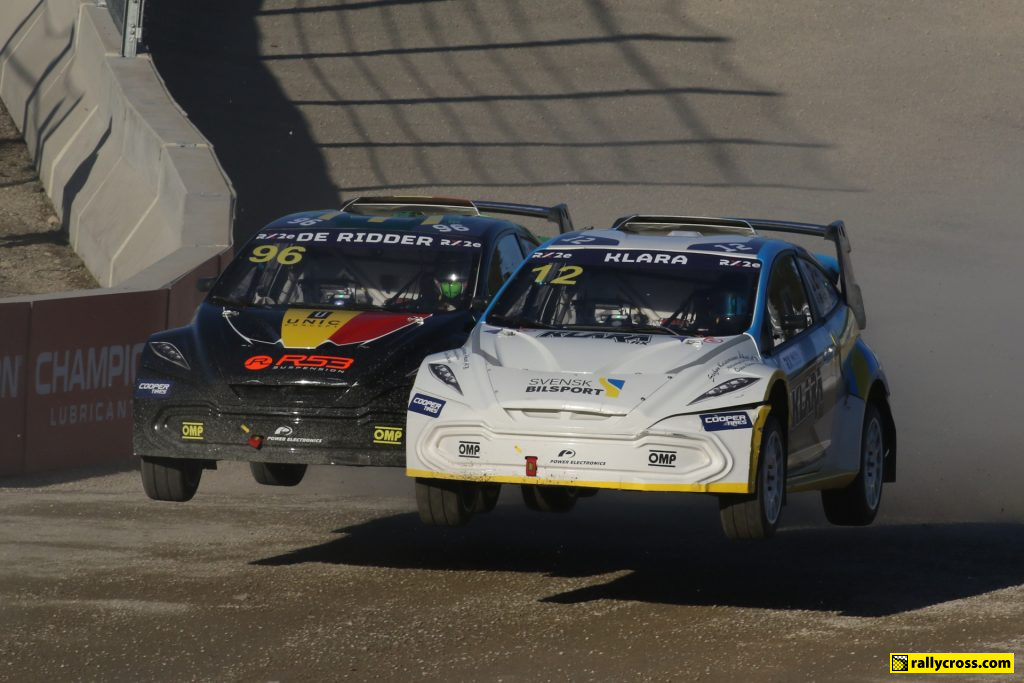 In the European championship for RX3 cars drivers completed already Q3. In this category the fight for the championship continues with drivers Yury Belevskiy (Audi A1), Kobe Pauwels (Audi A1) and Marat Knyazev (Audi A1) all in Volland Racing Audi's as main contenders. Timur Shigaboutdinov (Audi A1) is absent in Belgium, due to the national quarantine restrictions at his location, and therefore ruled himself out. The different heat races were also filled with several incidents leading to a number of Stewards Decisions. For example in Q2 Belevskiy and Knyazev hit each other resulting in a 9th and 10th place in the Q2 result for both drivers. Also during Q3 incidents took place involving Kobe Pauwels, who got penalized with 10 points on his initial Q3 result following an incident with Jiří Šusta (Škoda Fabia Mk3). Eventually Marat Knyazev is going into the lead after Q3 with 129 points. Belevskiy and Pauwels are respectively second and third with 127 and 121 points.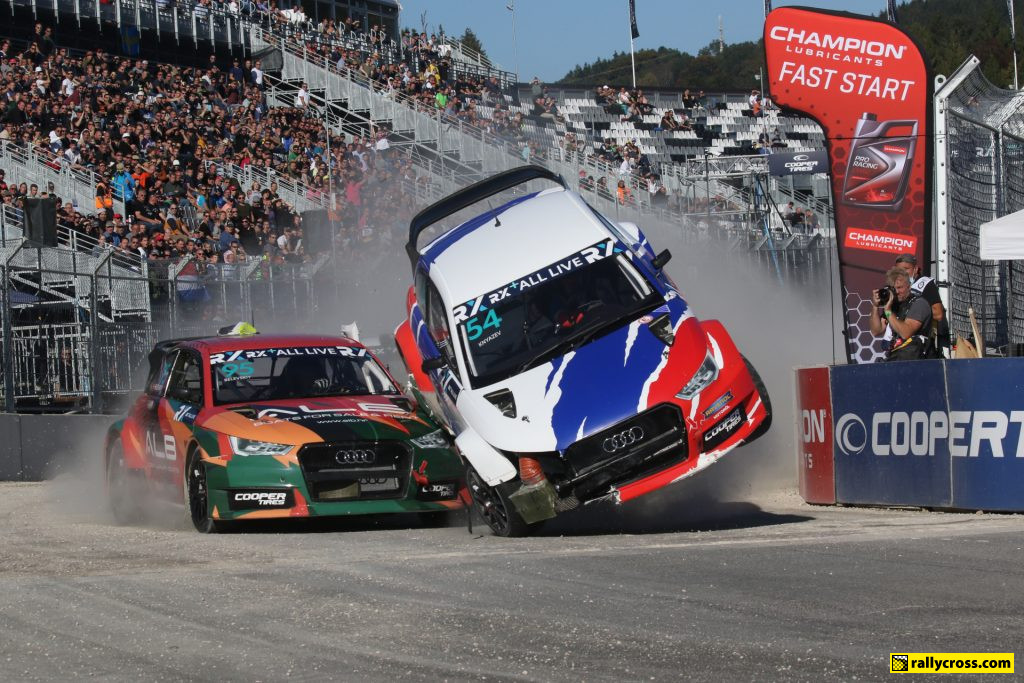 The action at the Circuit de Spa-Francorchamps continues tomorrow Sunday with a warm-up session at 9:50 am local time followed by the remaining qualifyings, semi-finals and finals.
Results
World RX (after Q2): 1. Johan Kristoffersson (S), 95; 2. Timmy Hansen (S), 84; 3. Kevin Abbring (NL), 83; 4. Timo Scheider (D), 80; 5. Krisztián Szábo (H), 78; etc.
RX2e (after Q2): 1. Jesse Kallio (FIN), 95; 2. Isak Sjökvist (S), 95; 3. Klara Andersson (S), 82; 4. Pablo Suárez (E), 80; 5. Guillaume De Ridder (B), 77; etc.
Euro RX1 (after Q2): 1. Andreas Bakkerud (N), 100; 2. Marcin Gagacki (PL), 81; 3. Jonathan Pailler (F), 81; 4. Stéphane de Ganay (F), 74; 5. Mandie August (D), 72; etc.
Euro RX3 (after Q3): 1. Marat Knyazev (RUS), 129; 2. Yury Belevskiy (RUS), 127; 3. Kobe Pauwels (B), 121; 4. Damian Litwiniwicz (PL), 121; 5. Clément Picard (B), 118; etc.