The 2020 FIA World Rallycross Championship that is set to go underway this weekend (August 22-23) at Höljes in Sweden is a result of the joint efforts of FIA, IMG, the local organiser and health authorities. With the Coronavirus/COVID-19 pandemic still going on, it benefits a lot from the "Return to Motor Sport Guidelines" issued by FIA back in June.
The "Return to Motor Sport Guidelines" document contains all the protocols and procedures developed by FIA to manage the risk associated with the resumption of Motor Sport amid the Coronavirus/COVID-19 pandemic.
The document (issued June 26) prepared under the direction of FIA Medical Commission President, Professor Gérard Saillant, following input from the World Health Organisation, cover topics varying from virus transmission mitigation measures to motor sport-specific cases such as limited number of personnel working on site.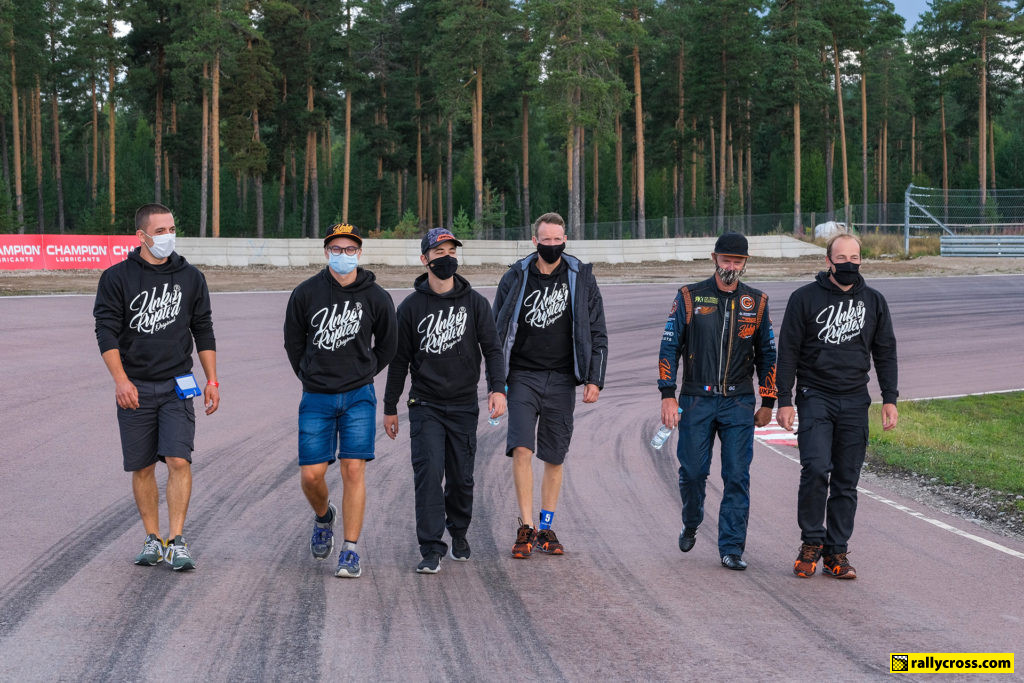 IMG, the promoter of the 2020 FIA World Rallycross Championship, worked together with FIA in order to issue a "Return to Racing Event Plan" which is specific to Rallycross and in line with FIA procedures. Further learnings have also been taken from recent Formula One, Formula E and World Endurance Championship events.
The FIA has undertaken a lot of work along with the World Health Organisation (WHO) our ASNs, event organisers and local health authorities in devising robust COVID-19 protocols to enable the return to motor sport in these challenging times. Therefore I am delighted that the FIA World Rallycross Championship is resuming racing this weekend at Höljes, Sweden. We trust that the measures we have in place will be effective in ensuring the health and well-being of all those in attendance.

Professor Gérard Saillant, President FIA Medical Commission
So what does this mean for spectators of WRX round 1 in Höljes?
There are no spectators.
There are no media people at the track. Everybody, us included, is working from home.
There are three photographers who will take photos for all media world-wide. IMG will share the images with accredited media workers world-wide.
The races of any class will be transmitted live over digital channels, including Euro Supercar and Projekt E.
What does it mean for the people in the paddock?
Anybody who is in the paddock has to be preregistered, regardless if it is a member of a team, people working for Cooper or P1 supplying tires and racing fuel, catering workers, other technicians, members of the TV team or the photographers hired to take photos for all media people (in their absense). Plus the Chronomoto time keeping team, the commentators Andrew Coley, Dan Rooke and "The man in the paddock" Neil Cole.

When arriving at the paddock for the intial registration procedure, everybody has to bring a negative Corona test that is not older than 5 days.

Afterwards, whenever you enter the paddock, temperature and symptoms are checked.
For the WRX teams, the number of people dedicated to a race car is limited to 7, this includes the driver, mechanics, spotter and any other position.
In addition, every WRX team is allowed to bring 1 media person. Whether it is a photographer, a writer, a blogger or a camera man, does not matter. It is limited to one person.
For the entire paddock it is mandatory to use face masks and keep a social distance.
Groups of people are separated and are not allowed to enter the zone of another group. For example, Neil Cole is allowed to walk around in the paddock and do interviews. But he is not allowed to enter a tent or truck of a team, because this is the zone of the mechanics.
Scrutineering, usually a busy procedure with a lot of people, is done by one mechanic standing on one side of the car and the scrutineer on the other side. The driver is excluded from this procedure (used to be mandatory).
When the race is over, we will see a prizegiving without people handing over the trophies. There will be 3 driver on the podium, with masks, and the prizegiving procedure will be a "help yourself" thing.
However, we can't wait to see the World Rallycross cars on track again. And we are grateful that FIA, IMG, WHO and the organisers have invested so much work to make World Rallycross happen again.