After a three week break the 2020 FIA World Rallycross Championship resumed this weekend (September 19-20) with a double header event at Riga in Latvia. Round five of the championship – World RX of Riga-Latvia – went to Johan Kristoffersson (VW Polo Mk5) on Saturday (September 19). He won the final at Biķernieki Sport Complex from Mattias Ekström (Audi S1) and Timmy Hansen (Peugeot 208).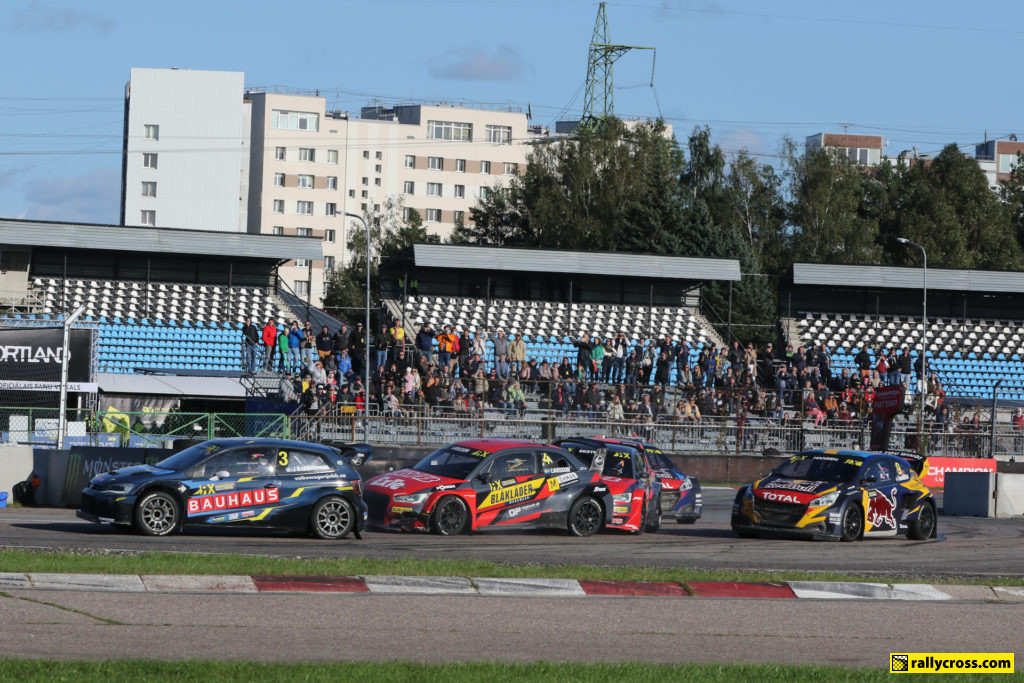 17 drivers made it to the list of starters for the fifth round of the 2020 World championship. Compared with the previous race weekend Hungarian Krisztián Szabó (Hyundai i20) returned to the championship and took on the wheel of the GRX Set Hyundai i20 instead of Juha Rytkönen who drove the car during the last time out in Finland. Regarding Rytkönen, earlier this week the announcement was made that he is going to replace Jani Paasonen for the October World RX double header in Barcelona in Spain. Former European Rallycross champion Reinis Nitišs (Škoda Fabia Mk3) was entered for the event by Lithuanian ES Motorsport to race the team's Škoda Fabia Mk3 during its first outing this season. Also at Riga, different from both of the previous race weekends in Sweden and Finland, a limited number of spectators were allowed to attend the event.
Qualifying on Saturday morning started with Johan Kristoffersson setting the fastest time in Q1. Q2 went to GRX Taneco's Niclas Grönholm (Hyundai i20) while Mattias Ekström drove his Audi to the, at that moment, fastest time of the day in Q3. With a third and fourth place in the other qualifyings Grönholm was the top qualifier with Kristoffersson second. The latter scored a third and a sixth fastest time in his other qualifyings. Spots three and four in the intermediate standings went to both of the KYB Team JC drivers with Mattias Ekström and Robin Larsson (Audi S1). The Hansen brothers made it in fifth – Timmy Hansen (Peugeot 208) – and sixth – Kevin Hansen (Peugeot 208).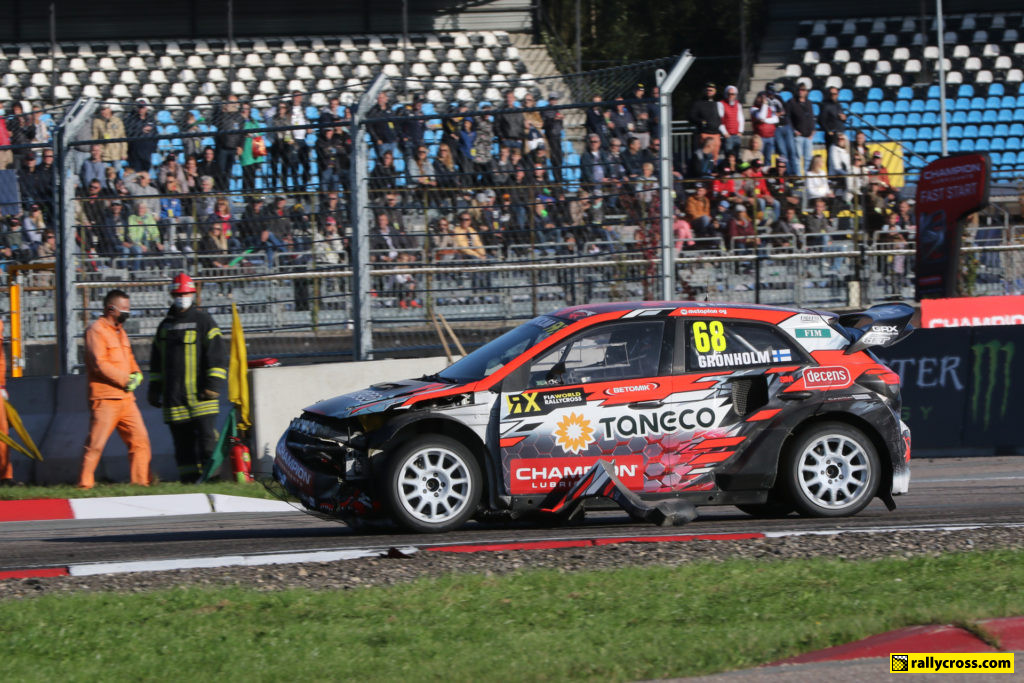 The first semi-final had Grönholm and Ekström on the front row with Timmy Hansen and Szabó on the second row. Andreas Bakkerud (Renault Mégane Mk4), who qualified as ninth, and Reinis Nitišs completed the grid. Ekström had the better start and was leading it after the first turn from Grönholm with Nitišs, from the last row on the grid, in third. Early joker's were for Szabó (opening lap) and Nitišs (second lap). Grönholm kept the pressure on Ekström until the penultimate lap when the Finn went into the joker lap section. Bakkerud, who ran four at that time, did the same. In the final lap Ekström had to pass through the joker lap section and was able to join the main track again ahead of Grönholm. Therefore Ekström won the first semi-final ahead of Grönholm. Timmy Hansen, who ran third most of the race, was holding off Bakkerud to qualify his Peugeot for the final.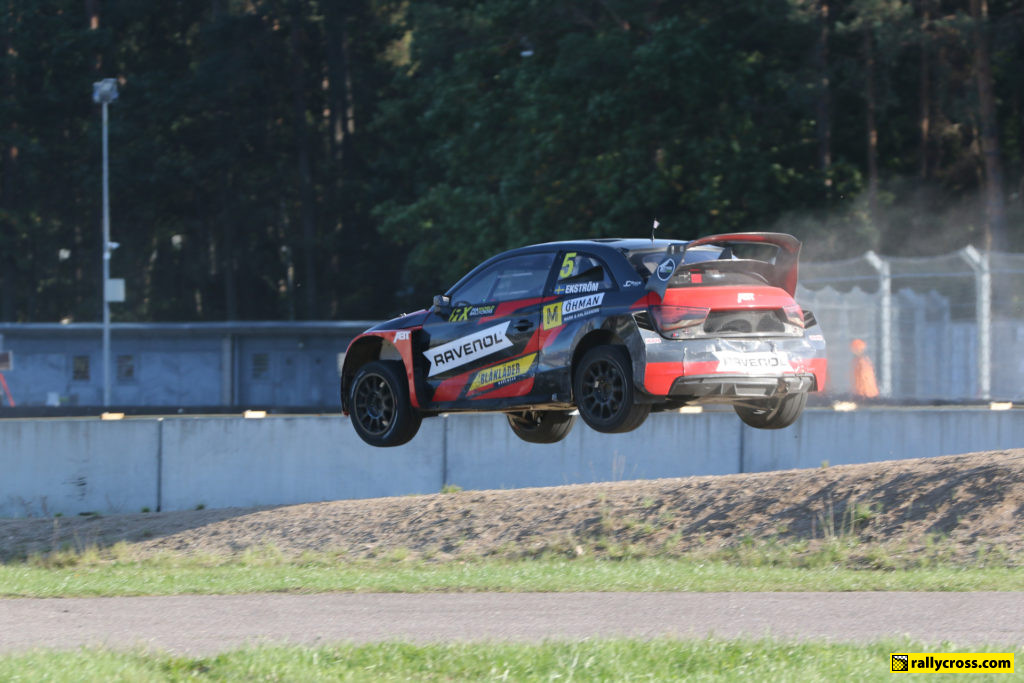 Swedes Kristoffersson and Larsson were sharing the front row for the second semi-final. Kevin Hansen and Liam Doran (Renault Mégane Mk4) were both placed on the second row while Timur Timerzyanov (Hyundai i20) and Timo Scheider (SEAT Ibiza Mk4) were on the last row. Scheider, who initially qualified 13th was brought into the semi-final after René Münnich (SEAT Ibiza Mk4), who qualified 12th was pulled out of it. Kristoffersson drove to victory after he already established a big gap on Larsson by the end of the first lap. He did not receive any competition in the remaining laps where Larsson and Kevin Hansen ran second and third all the time. Consequently the three Swedes made it through to the final.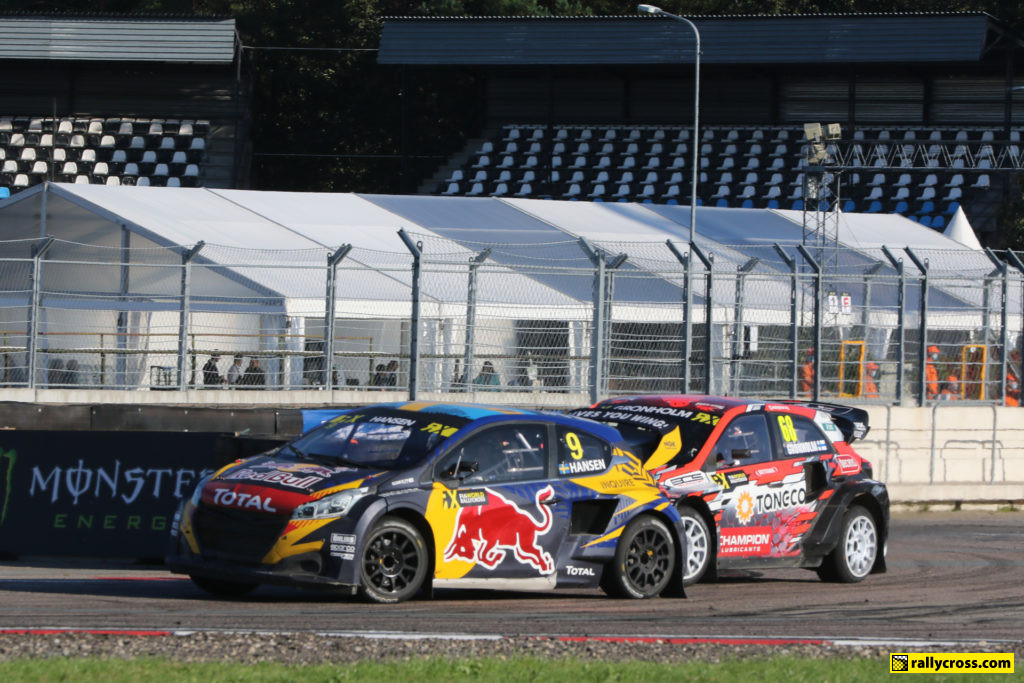 The final front row was occupied by Kristoffersson and Ekström. Grönholm and Larsson were placed on the second row with the Hansen brothers completing the grid on the third row. When the green light was shown Kristoffersson came out of the first turn leading it. In the second turn Larsson spun his car while Ekström got overtaken by Kevin Hansen on the outside. Front row starter Grönholm continued as fourth. From there Kristoffersson controlled the race and scored another lights-to-flag victory. Behind him Kevin Hansen made it into the joker in the second lap allowing Ekström to move into second again with Timmy Hansen on third. Ekström went down to third spot in the race after the fourth lap where he completed his mandatory joker lap. With Timmy Hansen taking the joker in the last lap Ekström passed him to finish second. Timmy Hansen was holding of his younger brother Kevin to claim third place. Grönholm who was hitting the tyre wall in the end, and Larsson were the last finishers in respectively fifth and sixth.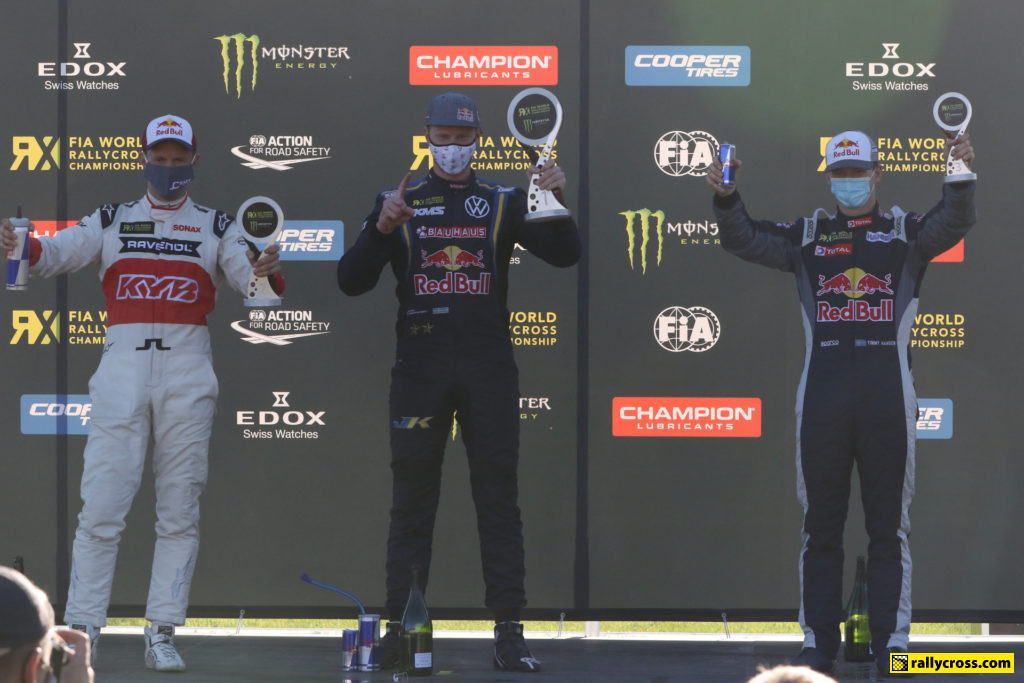 "This feels very good," were the first words of Kristoffersson after the final. "We were really pushing hard in Q2 and Q3, I was not really able to pull off the best times, but instead we had some good tyres for the semi-final and final so I think we had a big jump on our competitors in terms of tyres, then we had two good starts, and everything is much easier when you have fresh tyres." Second place finisher Mattias Ekström commented on the incident in the first corner and on not being good enough during qualifying. "The first corner of the final was a little bit too exciting," he said. "I don't know exactly what happened to Robin [Larsson], we'll have to watch the television, but it was a bit messy and after I drove as fast as I could behind Kevin [Hansen]. After he jokered I had a clear track and ended up P2. For sure that was not our wish when we came here, we wanted to win but during qualifying we were not good enough so we couldn't do good enough starts so we couldn't be at the front in Q1 and Q2. When you're on the back foot then you have to try and recover and I think P2 is a good recovery, but you need to be spot on to win these races especially when the other guys are in top shape as well." In the standings after five events, Kristoffersson (140 points) extends his lead on Mattias Ekström (119 points). Niclas Grönholm (99 points) is currently third.
Alongside the fifth round of the 2020 FIA World Rallycross Championship also rounds two of respectively the 2020 FIA European Rallycross Championship and the 2020 Projekt E Series are underway at Riga this weekend. Both competitions completed two qualifyings (out of four) on Saturday. In the European championship Norwegian Sondre Evjen (VW Polo Mk5) is holding the overnight lead after he set a fastest and second fastest time during Q1 and Q2. He is leading it ahead of last year's winner in Riga and fastest in Q2, Jean-Baptiste Dubourg (Peugeot 208). The top five is completed by Ben-Philip Gundersen (Audi S1), Andréa Dubourg and Oliver Eriksson (Ford Fiesta Mk7 ST).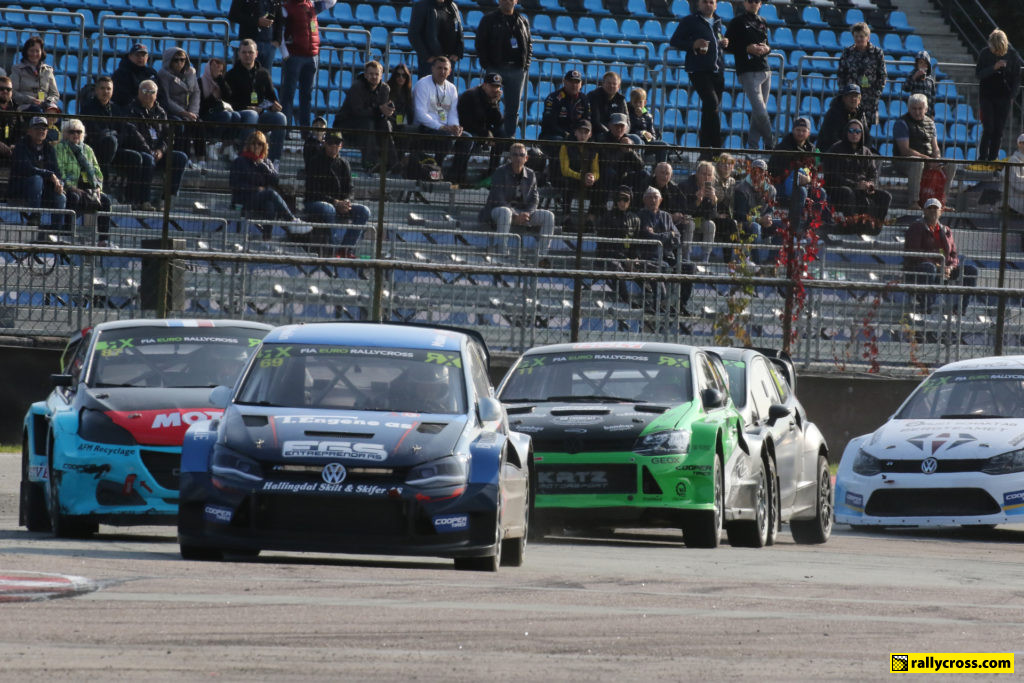 Projekt E in Riga is run according to a four-car-entry. Only Britain's Natalie Barratt (Ford Fiesta ERX) is racing her second event in the series. The other drivers, Cyril Raymond (Citroën C3 ERX), Svein Bjarte Holten (Ford Fiesta ERX) and Jānis Baumanis (Ford Fiesta ERX) are all out for their first event. In Q1 Baumanis beat Raymond while in Q2 it was the other way round. After Q2 Baumanis and Raymond were tied on points but with Raymond claiming the 'most recent better result' the Frenchman holds the overnight lead.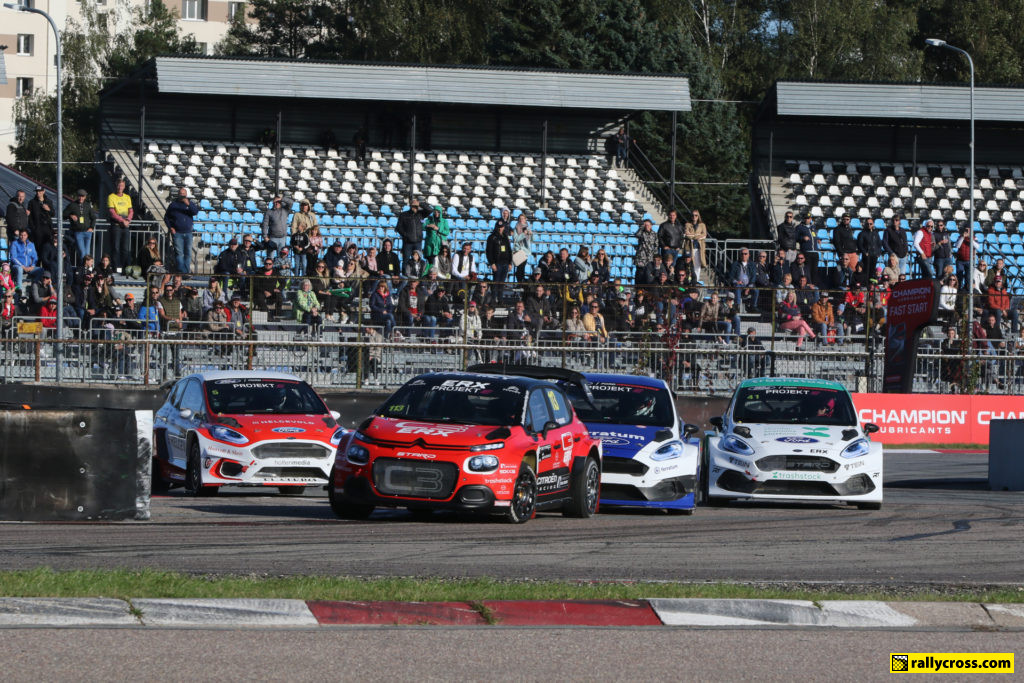 On Sunday round six of the 2020 FIA World Rallycross Championship will go underway together with the remaining qualifyings and final for the European Championship and the Projekt E Series. Sunday's action starts from 9am local time with a warm-up session for all categories.
Brief results:
Supercar final: 1. Johan Kristoffersson (S), VW Polo Mk5; 2. Mattias Ekström (S), Audi S1; 3. Timmy Hansen (S), Peugeot 208; 4. Kevin Hansen (S), Peugeot 208; 5. Niclas Grönholm (FIN), Hyundai i20; 6. Robin Larsson(S), Audi S1.
Brief standings:
Drivers (5/10): 1. Johan Kristoffersson (S), 140; 2. Mattias Ekström (S), 119; 3. Niclas Grönholm (FIN), 99; etc.
Teams (5/10): 1. KYB Team JC (S), 197; 2. Team Hansen (S), 172; 3. GRX Taneco (FIN), 148; etc.