Johan Kristoffersson (Audi S1) is holding the overnight lead during the third round of the 2021 FIA World Rallycross Championship at Lohéac in France that went underway this morning (September 4). Apart from the World championship also third rounds of the FIA RX2e and the FIA Euro RX3 championships are taking place this weekend as well as the second round of the 2021 FIA Euro RX1 championship.
After a break of one year, due to the coronavirus pandemic, Lohéac is back on the World and European Rallycross calendar at its traditional slot of the first weekend of September. The action on the track commenced already on Friday afternoon and evening with a number of free practice sessions and support series races as well. After some more practice sessions on Saturday morning, eventually before noon Q1 went underway for the different categories.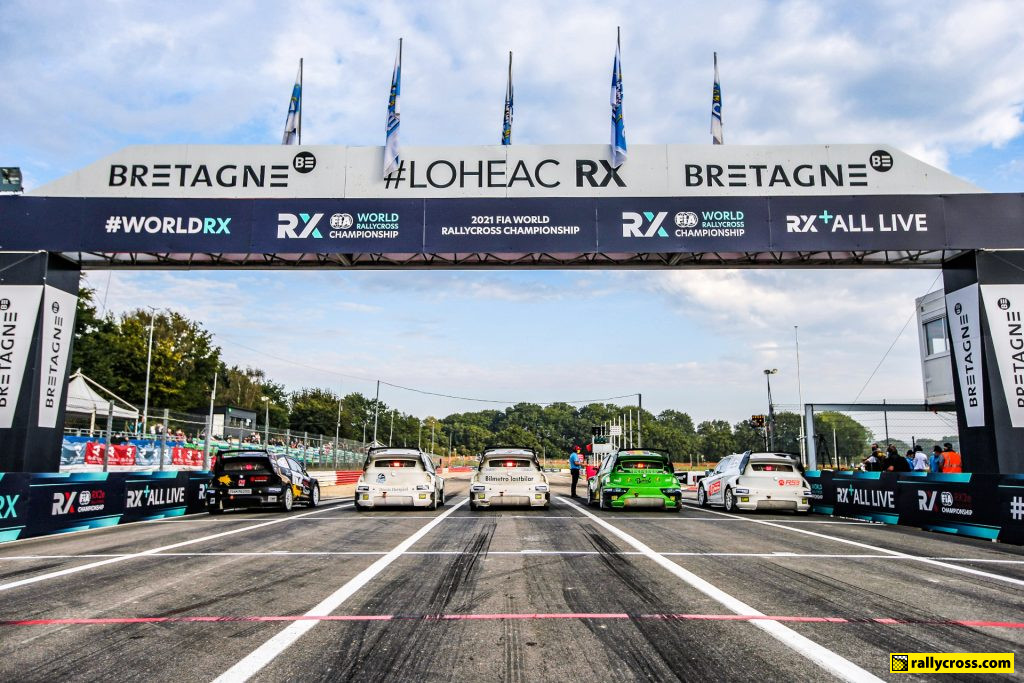 In World RX another total of 10 drivers were on the list of drivers allowed to take part in the event spread out over two races of five cars each. Defending champion Johan Kristoffersson was out on the track in the first Q1 race that he won from Timmy Hansen (Peugeot 208) after he lead it from lights to flag. Niclas Grönholm (Hyundai i20) won the second race from Kevin Hansen (Peugeot 208) afterwards. The Finn also beat the time of Kristoffersson and therefore won Q1. In Q2, ran according to 'slowest first', the top five was out on the track in the second session. Grönholm won the start from pole and lead it until the final lap when he had to pass through the joker lap section. Kristoffersson who passed through it in the second lap was able to overtake him when joining the main track again. The overnight lead therefore is for Kristoffersson with a fastest and second fastest time ahead of Grönholm (fastest and third fastest). Kevin Abbting (Renault Mégane Mk4) won the first Q2 race and set a second fastest time in Q2 and is third on Saturday evening. The intermediate standings after Q2 sees Kevin and Timmy Hansen currently placed fourth and fifth.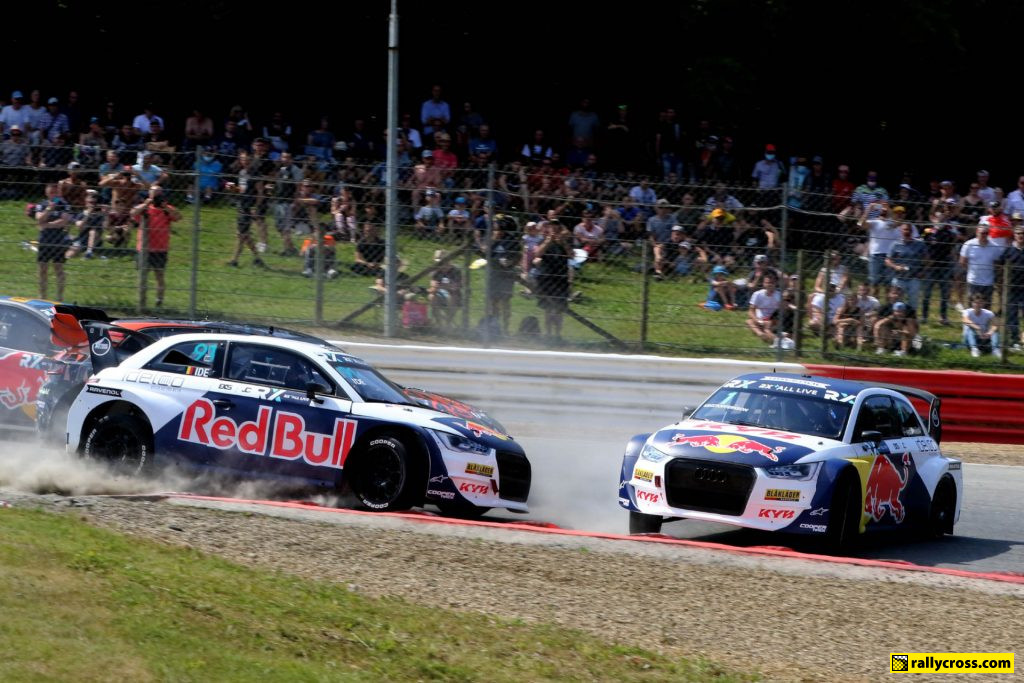 Also 10 drivers were on the starting list for the RX2e category – the official support series to the World championship. Among those 10 some familiar faces from previous seasons and previous championships. Cyril Raymond (RX2e), former winner of the RX2 International series, is one of them. Also American racer Conner Martell (RX2e), a former winner of the Americas Rallycross Championship for Supercar Lites, is among the participants. However for the last named things did not go according to plan. In Q1 he received a 30 seconds time penalty for not passing through the joker lap section and later on he got disqualified of Q2 for not wearing the correct shoes. Cyril Raymond on the other hand is currently second in the intermediate standings (after Q3) with second fastest times in Q2 and Q3. Speaking of familiar faces, former FIA European Rallycross champion Reinis Nitišs (RX2e) is another one and goes currently in third. The Latvian set the fastest time in Q3. Holding the overnight lead in RX2e is 18-year-old Frenchman Dorian Deslandes (RX2e) who was fastest in Q1 and Q2.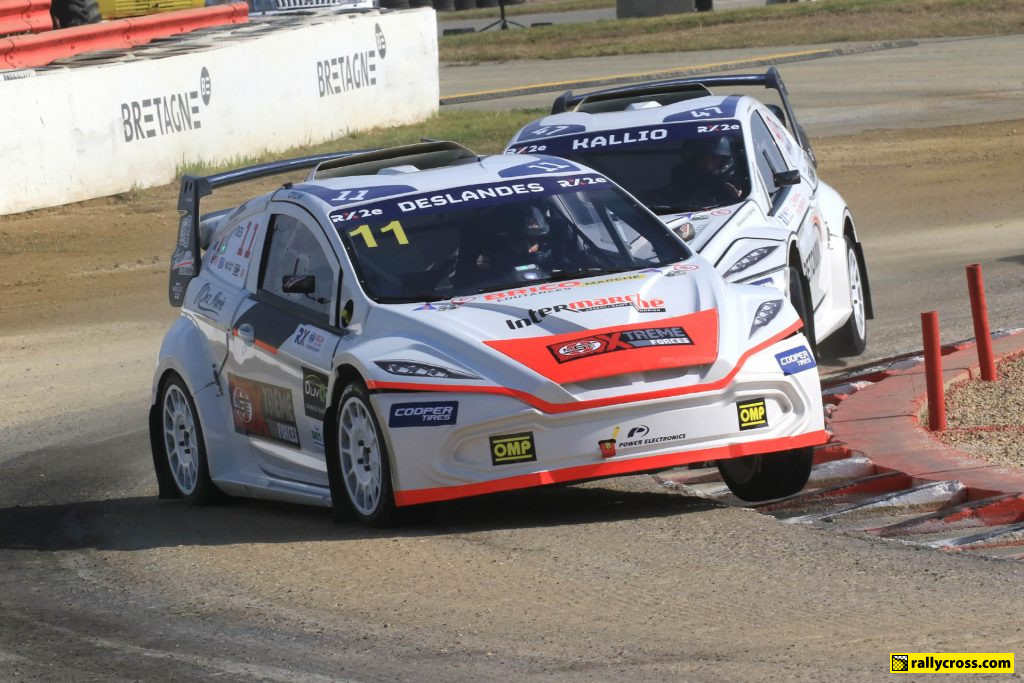 In the FIA European Rallycross Championship for RX1 cars Lohéac saw another late entry for Andreas Bakkerud (Škoda Fabia Mk3). Similar as during the opening round of the championship at Höljes in Sweden the Norwegian reached another deal with Lithuania's ES Motorsport to race the team's second Škoda Fabia. On the entry list Bakkerud is taking the entry of Czech driver Aleš Fučík. Bakkerud drove the Fabia to the fastest time in Q1 while he scored a second fastest time in Q2 only beaten by Jānis Baumanis (Škoda Fabia Mk3) in the ES Motorsport other Škoda Fabia. Bakkerud is also leading it after Q2 from Jean-Baptiste Dubourg (Peugeot 208) – second fastest in Q1 – and Andréa Dubourg (Peugeot 208). Tamás Kárai (Audi S1) and Baumanis are completing the top five.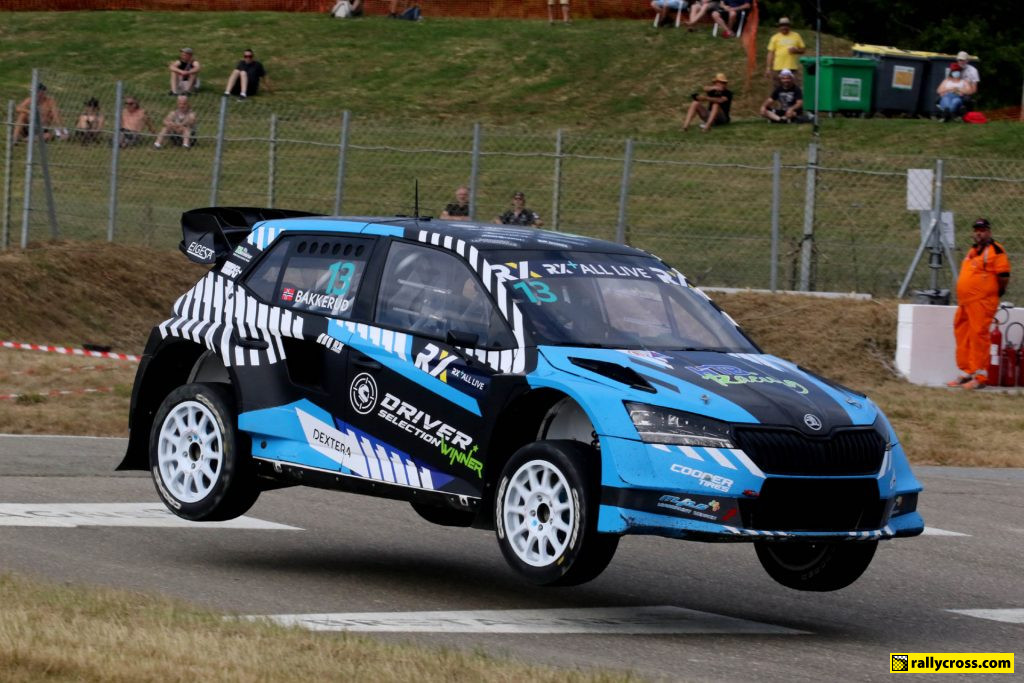 in Euro RX3, Lohéac will not become another perfect event for the winner of the previous rounds this season and current points leader Yury Belevskiy (Audi A1). The Russian got beaten in Q3 by his main challenger Kobe Pauwels (Audi A1). The Volland Racing dominance on the other hand continues with Audi A1 cars currently on places one to five. Belevskiy, quickest in Q1 and Q2 is leading it from Pauwels. Marat Knyazev (Audi A1) is third after setting the third fastest time each time in Q1, Q2 and Q3. The Audi's of Timur Shigaboutdinov (Audi A1) and Zsolt Szijj (Audi A1) are completing the top five.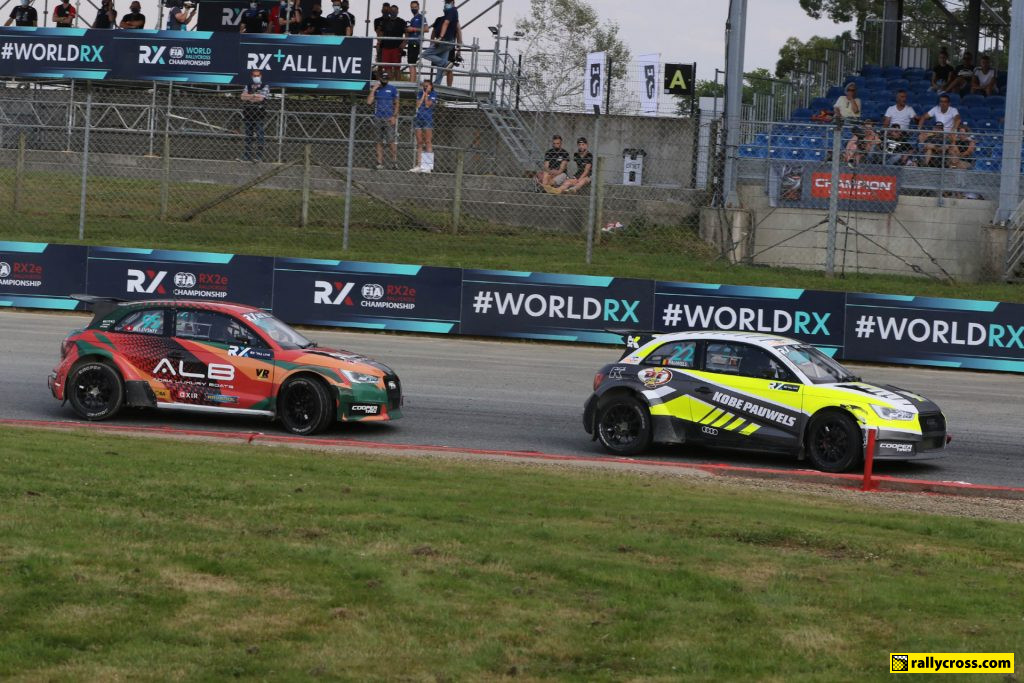 Tomorrow Sunday, the action at Lohéac resumes with a warm-up session for all categories from 8:30 am local time followed by the remaining qualifying sessions, the semi-finals and the finals.
Results
World RX (after Q2): 1. Johan Kristoffersson (S), 95; 2. Niclas Grönholm (FIN), 92; 3. Kevin Abbring (NL), 83; 4. Kevin Hansen (S), 82; 5. Timmy Hansen (S), 77; etc.
RX2e (after Q3): 1. Dorian Deslandesl (F), 138; 2. Cyril Raymond (F), 129; 3. Reinis Nitišs (LV), 128; 4. Guillaume De Riider (B), 126; 5. Jesse Kallio (FIN), 119; etc.
Euro RX1 (after Q2): 1. Andreas Bakkerud (N), 95; 2. Jean-Baptiste Dubourg (F), 83; 3. Andréa Dubourg (F), 79; 4. Tamás Kárai (H), 78; 5. Jānis Baumanis (LV), 76; etc.
Euro RX3 (after Q3): 1. Yury Belevskiy (RUS), 145; 2. Kobe Pauwels (B), 140; 3. Marat Knyazev (RUS), 126; 4. Timur Shigaboutdinov (RUS), 119; 5. Zsolt Szíjj (H), 116; etc.