Jamaica's Fraser McConnell (Ford Fiesta Mk8), in a by Olsbergs/MSE prepared Ford Fiesta, won the opening round of the 2O21 RallyX Nordic series at Nysum (Nysumbanen) in Denmark on Saturday (May 1). He won the Supercar final ahead of three time FIA World Rallycross Champion Johan Kristoffersson (VW Polo Mk5). Simon Olofsson (Supercar Lites) scored a clean sweep in the Supercar Lites category.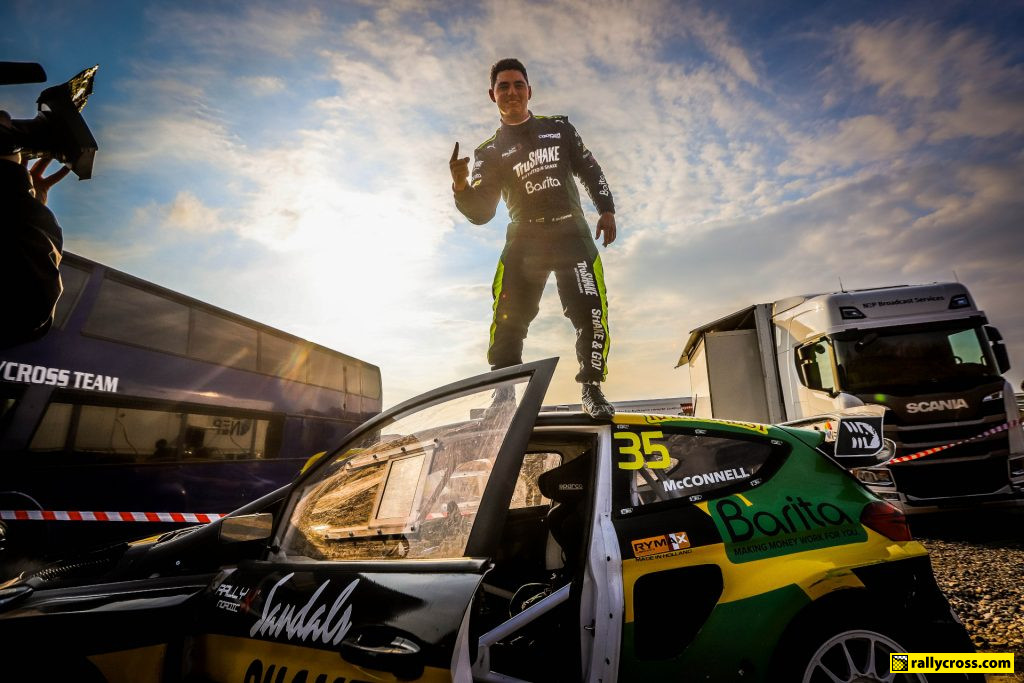 Prior to the start of the 2021 season and with the global health crisis still going on a 7-event RallyX Nordic calendar was released with three double header race weekends. After this weekend's Danish double header further race weekends are scheduled for Höljes in Sweden and Oulu in Finland on respectively May 15-16 and June 5-6. The series finale is scheduled for Arvika in Sweden on August 14-15 as a single header race weekend.
13 Supercars took part in this first round in Denmark – held behind closed doors – with among them three time FIA World Rallycross Champion Johan Kristoffersson at the wheel of a Kristoffersson Motorsport VW Polo, a car he raced in last years RallyX Nordic events at Höljes and Arvika.
"The plan is to participate in this years RallyX Nordic events," Kristoffersson said.
"We are waiting for the new electric era in Rallycross so this will be good driving training for that."
The recently founded EKS JC, a cooperation between Joel Christoffersson's JC Raceteknik and Mattias Ekström's EKS, entered two Audi S1 for Norwegian Sondre Evjen (Audi S1) and Belgian Enzo Ide (Audi S1).
"It feels really nice to be back with the team," Evjen explained before the event. "It was with Joel [Christoffersson] that I started my Rallycross career.
"I've had two educational years in the European Championship with the Kristoffersson team, where I developed as a driver and was able to improve the pace in the car [VW Polo]. Aside from some tests, Nysum will be my first time in the Audi."
Hedströms Motorsport came to Denmark with two VW Polo Mk5 for Swedes Lars Andersson (VW Polo Mk5) and Anders Michalak (VW Polo Mk5). Olsbergs/MSE prepared a Ford Fiesta for Jamaican Fraser McConnell who debuted Supercar racing in RallyX Nordic last year and finished second.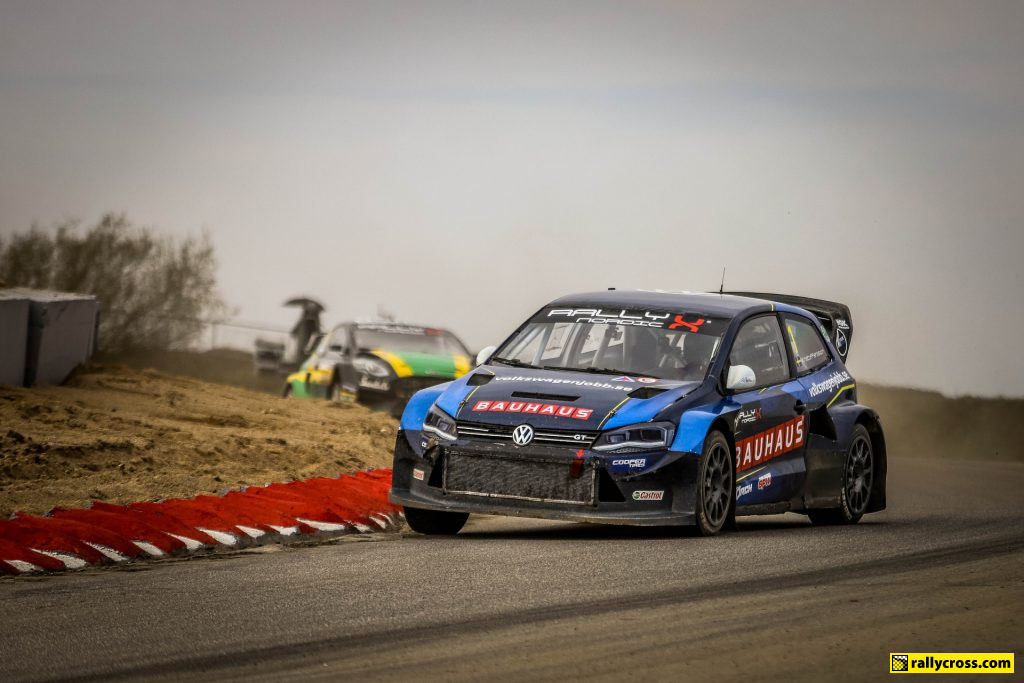 Kristoffersson immediately set the pace on Saturday morning with being fastest in both of the practice sessions. In the first practice session he was quicker then Sondre Evjen and Fraser McConnell with Andreas Carlsson (Renault Clio Mk3) on four. In the second session he beat McConnell, Enzo Ide and Evjen in that order.
During qualifying Kristoffersson got beaten twice. The event at Nysum is a double header event meaning on both days three qualifying sessions take place (instead of four). In Q1 Evjen drove the Audi S1 to the fastest time ahead of Kristoffersson. Kristoffersson set the fastest time himself in Q2 while in Q3 he got beaten by Evjen's teammate at EKS JC, Enzo Ide. Overall Kristoffersson was Saturday's top qualifier with a fastest and two second fastest times. Second and third place in the intermediate classification went to the EKS JC Audis with Evjen and Ide. Fourth was Andreas Carlsson while Fraser McConnell completed the top five.
Following the intermediate classification Kristoffersson and Enzo Ide were on the front row of the first semi-final. After a messy start home favorite Ulrik Linnemann (Ford Fiesta Mk7) was leading it after turn two ahead of Kristoffersson and Ide. With all three drivers passing through the joker lap section in the final lap, Fraser McConnell who ran fourth was able to pass Ide and claim the last qualifying spot for the final. The front row of the second semi-final was occupied by Evjen and Carlsson. Evjen had the better start and scored a lights-to-flag win in his semi-final. Andreas Carlsson and Anders Michalak were the other qualifiers for the final.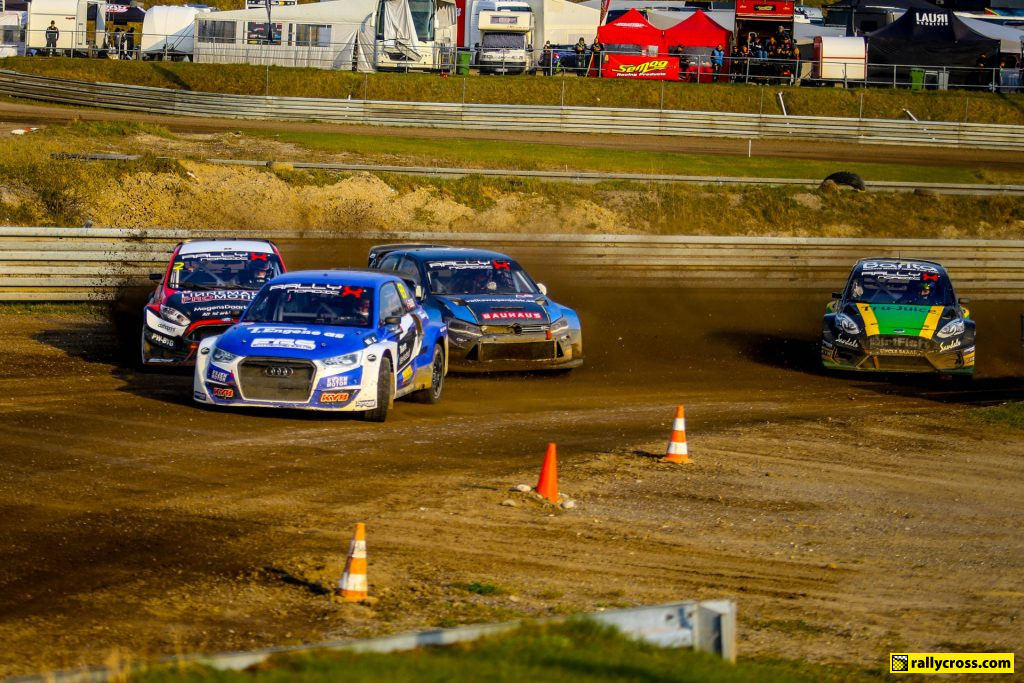 Also the final with Linnemann and Evjen on the front row and Kristoffersson and Carlsson on the second row was decided shortly after the start in turn two. Fraser McConnell, who started from the last row, was on the inside and came out of turn two leading the field. When Kristoffersson made it into the joker lap section he joined the main track again behind Michalak allowing McConnell and Carlsson to enlarge the gap with Kristoffersson. With the leading duo passing through the joker lap in the final lap Kristoffersson was able to climb to second spot and finish behind McConnell. Also Sondre Evjen was able to pass Carlsson in the final lap to claim the last step of the podium. For Fraser McConnell today's victory was his first win in a Supercar.
"Big up, this is unreal!" was his first comment after the finish.
"The quality of these drivers is incredible, but the level of Olsbergs/MSE is unbelievable. We never give up, and whilst our pace was up-and-down all day, I gave it everything I had. I'm with the best team in the world, and I'm racing for the best country in the world. Big up everybody!

"I was telling myself on the start-line for the final, even though you're only in fifth, you can still do this. It's Rallycross and anything can happen. I kept it neat and knew there would be a little drama at the first corner. Like Andreas [Eriksson] told me, I had to take advantage of the other guys' mistakes and that's exactly what I did.
"I'm already looking forward to tomorrow, but right now I'm just so made-up!"
In the Supercar Lites it was all about Simon Oloffsson who scored a clean sweep. The Swede was fastest in all three qualifying sessions, won his semi-final afterwards and drove to victory in the final. Linus Östlund (Supercar Lites) and Finn Tommi Hallman (Supercar Lites) finished respectively second and third.
The NEZ Open 2WD class has been added to the RallyX Nordic race weekend from this season on. Win in the first round went to Simon Tiger (BMW E30 Coupé).
Tomorrow Sunday May 2, the 2021 series continues with round two.
Results
Supercar – Final: 1. Fraser McConnell (JAM), Ford Fiesta Mk8; 2. Johan Kristoffersson (S), VW Polo Mk5; 3. Sondre Evjen (N), Audi S1; 4. Andreas Carlsson (S), Renault Clio Mk3; 5. Ulrik Linnemann (DK), Ford Fiesta Mk7; 6. Anders Michalak (S), VW Polo Mk5.
Supercar Lites – Final: 1. Simon Olofsson (S), Supercar Lites; 2. Linus Östlund (S), Supercar Lites; 3. Tommi Hallman (FIN), Supercar Lites; 4. Martin Jonsson (S), Supercar Lites; 5. Mats Oskarsson (S), Supercar Lites; 6. Martin Enlund (S), Supercar Lites.
Open 2WD – Final: 1. Simon Tiger (S), BMW E30 Coupé; 2. Stefan Kristensson (S), Ford Escort Mk4; 3. Mathias Jansson (S), Volvo S40 Mk1; 4. Morten Bertelsen (DK), Škoda Fabia Mk1; 5. Lars Englund (S), Porsche 911; 6. Mikael Persson (S), VW Golf Mk4 – DNS.
Standings
Supercar (1/7): 1. Johan Kristoffersson (S), 26; 2. Sondre Evjen (N), 25; 3. Fraser McConnell (JAM) 24; etc.
Supercar Lites (1/7): 1. Simon Olofsson (S), 30; 2. Linus Östlund (S), 26; 3. Martin Jonsson (S), 21; etc.
Open 2WD (1/7): 1. Simon Tiger (S), 30; 2. Stefan Kristensson (S), 24; 3. Mathias Jansson (S), 23; etc.